Qubul Hai!
Customs & rituals in Muslim marriages


The Quran says that marriage (nikah) is a solemn and sacred social contract between the bride and groom. Prophet Muhammad made it his tradition to have a marriage sermon (sunnah) delivered in the assembly to solemnise the marriage. The sermon invites the bride and the groom, as well as the participating guests in the assembly to a life of piety, mutual love, kindness, and social responsibility. Islam also advocates simplicity in ceremonies and celebrations. Prophet Muhammad considered simple weddings to be the best weddings.


Muslim wedding are celebrated on a grand scale in India. The wedding customs and rituals have come down from the Moghul rulers in the medieval India. Muslim families in India follow the traditional way of wedding customs and rituals as followed by the Middle Eastern Muslims.

Pre-wedding Rituals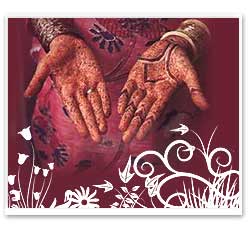 Mehndi ceremony
The Mehndi ceremony is held at the home of the bride on the eve of the wedding ceremony or a couple of days before it. The female relatives of the girl anoint her with turmeric paste to bring out the glow in her complexion. A relative or a Mehndiwali applies Mehndi on the hands and feet of the bride. The event has a festive feel to it with the women singing traditional songs. The bride wears sober clothes. According to custom she must not step out of the house for the next few days until her marriage. The bride's cousins sometimes apply a dot of Mehndi on the palm of the groom.

Wedding Rituals

Bridal wear
Throughout the Muslim world, a cherry red shade is chosen for bridal robes. Covering the head during a wedding is a mark of respect. The ghunghat may vary in length, covering not only the head but also the shoulders, back and almost down to the waistline.

Groom wear
The groom may sport a safa with its flowing tail end. He may also wear a pagdi, or a topi. White flowers are also tied in suspended strings over the forehead, called sehra.

Welcoming the baraat
The groom arrives at the wedding venue with his baraat. A band of musicians strike up some traditional notes to announce their arrival. The groom shares a drink of sherbet with the bride's brother. The bride's sisters play pranks and slap the guests playfully with batons made of flowers.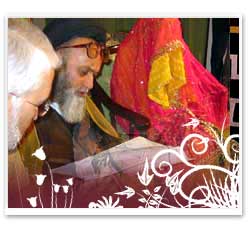 Nikaah
The Nikaah or wedding ceremony can be conducted at the home of the bride or the groom, or at any other convenient venue. A maulvi (priest) in the presence of close family members and relatives conducts the ceremony. In orthodox Muslim communities, the men and women are seated separately. The Walis (the father of the bride and of the bridegroom) play an important role in the ceremony. The maulvi reads selected verses from the Quran and the Nikaah is complete after the Ijab-e-Qubul (proposal and acceptance). The boy's side proposes and the girl's side conveys her assent. The mutual consent of the bride and groom is of great importance for the marriage to be legal. On the day of the Nikaah the elder members of the two families decide the amount of mehar (nuptial gift). The mehar is a compulsory amount of money given by the groom's family to the bride.













Ask our Experts :
Expert Advice, Personality, Immigration (US), Tarot, Hot Couture, Body Care, Matrimonial Laws, Sexual Health, Life, etc, Man vs Woman, Fitness.

Copyright © 2020 Shaaditimes.com - A relationship and wedding portal by Shaadi.com. - All Rights Reserved.
Terms and Conditions