Taking Care Of Your Guests
Planning A Blast Of A Wedding Reception!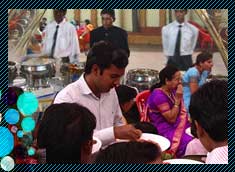 The more the merrier couldn't be true than in the case of wedding receptions. However, as host it becomes your responsibility to ensure that a good time is had by all. Here are some things to do to ensure that your guests have a whale of a time at your wedding reception.

If you thought that having your reception at a fancy hotel, decorating the reception hall to look like something out of a fairytale, and ensuring that the booze flows like water is all you had to do to take care of your guests, well... think again.


While all these things are the hallmark of a great wedding reception, it is more important to make your guests as comfortable as possible so that they can enjoy themselves thoroughly. To that end, here's what you need to do:
No serpentine queues please:
The no.1 peeve of wedding guests is the long reception line that they have to contend with in order to congratulate the happy couple. In fact at large weddings, guests spend the majority of their time at the reception simply waiting in line.

Solution: Instead of the traditional 'stage' receptions, perhaps you could mingle among your guests. All - the guests and bridal couple included, would definitely have a better time!


The way to your guests' hearts...
...is surely through their stomachs. Having 30 plus dishes in three different cuisines is good and all - but only if your guests can actually get to them without starving first. Holding on to a heavy plate while waiting for food is too reminiscent of the lines at school dormitories or in jail.

Solution: Have multiple counters for food instead of a single one. And since caterers charge by the plate (on a per head basis), this will not add to your food costs at all.


Musical chairs at a reception?
Another thing that makes for an unpleasant experience at wedding receptions is having to fight for a place to sit. Why have only 150 chairs at the reception when you're expecting more than 500 guests?

Solution: Ensure that there is adequate seating arrangement for your guests. By adequate we mean about 60% of the number of guests you have invited, since about 15% of all invited guests do not show up, whereas the rest will be a rotating crowd.


Mother Nature... an uninvited guest:
Ignore natural weather conditions only if you're ready to risk all your guests running away from your wedding reception or not turning up in the first place. Yes, most of you will avoid having an outdoor wedding during the monsoons, but what about when it is too hot, too windy, or too cold?

Solution: If the temperatures are likely to be more than 30° C or less than 10, have an indoor reception guys! If that's not possible, arrange for portable fans and coolers during the summer or for heaters during the winter. In extremely cold weather, it is also a good idea to have small bonfires around which the seating can be arranged. In addition to making your guests cosy they look great too.


This is what guests look forward to at a wedding reception, apart from the good food, wine and music of course!


Ruchi Agarwal
John Players Signature Line T-Shirt for Men
Pink Printed Tunic
Wills Lifestyle Casual Top For Women
Rs.1,095 ($22.75)
Rs.2,135 ($44.35)
Rs.1,395 ($28.98)











Ask our Experts :
Expert Advice, Personality, Immigration (US), Tarot, Hot Couture, Body Care, Matrimonial Laws, Sexual Health, Life, etc, Man vs Woman, Fitness.