Framed forever
How to make your wedding photographs memorable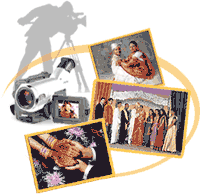 Imagine your 25th wedding anniversary. You and your spouse are going through your marriage album. And you'll sigh together, "Wish we had done some planning!" The memories of the happiest day of your life, are nothing but some obscure poses by people you don't even recognise anymore! Planning for a photographer is as important as planning for the wedding venue, food, guests and all.

Shaaditimes gives you some guidelines on how to make your memories last a lifetime




Research
Spend some time looking out for a good, experienced photographer. Check for style, variations, presentation and finishing. If possible, take time out to meet him and go through his portfolio. Once you have finalised the photographer, let him know exactly what kind of pictures you want him to click. It's advisable to put all your requirements on paper so that the photographer is clear and, just in case he forgets, does not bother you again and again.



Logistics
It is very useful to give a copy of the wedding logistics to your photographer. It helps the photographer to be at the right place at the right time. The logistics would include the date and timings of various functions. Highlight the special events - the sangeet , mehndi , etc in the logistics sheet provided to the photographer, so that he does not miss out on any memorable moment.



Assign a 'guide' to the photographer
A 'guide' is a very handy means of communication with the photographer. A guide should be a person who knows the events, venues, guests and the wedding schedule well. He should be able to answer any questions that a photographer may have. And besides, he should be easily accessible to the photographer. The main duties of the guide are - to inform the photographer of any event / moment worth capturing or, in other words, click where the action is, guests whose photographs have to be clicked, any specific angles that need to be covered and informing about any surprise (pre-planned or accidental) incidents that have to be framed!



Price
When it comes to weddings, there is a tendency to go over budget or be careless about your spendings. People often justify it by saying that one doesn't marry everyday! However, it is very important to draw a line somewhere. Planning is the key to smooth operations. Many consider photographers among "miscellaneous expenses". But, it will be quite foolish to hire a photographer without deciding upon the fee. Photographers do not follow a standard rate. Each one has his own price list depending on his experience and expertise. Hence, price is one of the foremost things that you need to fix before you get into other essentials.



Delivery
If you receive the photographs on your first wedding anniversary, you rather let him keep them for a few more years! To have an edge over his competitors, photographers tend to make incredible promises when it comes to delivery. It becomes important for you to differentiate between what is possible and what is promised. Give the photographer reasonable time to give the finishing touches to your album. You don't want your priceless possession ruined due to haste, do you?

Last minute reminders:
Do not miss the special surprise events / moments planned by the family members or relatives for the bride and groom.
The focus should not only on be the bride and the groom. The beautiful decorations, the dressed up in-laws and the immediate family, have to be covered adequately.
Make sure there is at least one family photograph, covering all the generations that are present.
Capture the emotions on the faces of the bride and groom well.
Do not annoy the photographer. Make sure he gets food and refreshments on time. A disgruntled photographer will only spoil your dearly awaited wedding album.

Remember, your marriage album, even 60 years after your marriage will bring a smile on your face or a tear in your eyes as it brings alive old emotions and feelings.


Sagar Patel
John Players Casual T-Shirt for Men
Wills Lifestyle Casual Top For Women
John Players Signature Line T-Shirt for Men
Rs.995 ($20.67)
Rs.1,495 ($31.06)
Rs.1,095 ($22.75)











Ask our Experts :
Expert Advice, Personality, Immigration (US), Tarot, Hot Couture, Body Care, Matrimonial Laws, Sexual Health, Life, etc, Man vs Woman, Fitness.