Symbolic, splendourous chudas!


Spotting a newly-married Punjabi woman in India is easy. Dozens of red and cream ivory bangles adorning her wrists speak aloud about her marital status. These set of bangles in ivory, lac or plastic with intricate inlay work painted or engraved on it are adorned on the bride's wrist after a traditional ceremony called "chuda chadana".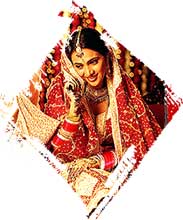 A day or two before the wedding an auspicious day is selected by the family priest for the chuda chadana ceremony. The bride's mama (mother's brother) gets these bangles for the bride. It begins with a havan or puja and after this a 'mauli' (red sacred thread) is tied to the bride's wrist. Along with it is also tied a black sacred thread with iron rings called 'gana' to protect the bride from all ills.

The set of chudas is shown to the girl just before the ceremony. Everyone present during this ritual touches the bangles and offers their good wishes and blessings. This ceremony commences amidst heavy emotions.

Before the bangles are worn they are soaked in 'kacchi lassi' (buttermilk) overnight. During the ceremony friends and cousins of the bride-to-be gather around her and sing and dance with gaiety. Usually after the chuda is tied, the girl remains indoors till the wedding in her old clothes. It is believed that in ancient times, to attain ethereal beauty, the bride sat before four lamps lit till her wedding day.

The groom's family also has a role to play in this ceremony. Although they do not attend this function they send the 'kwar dhoti' to the girl before the chuda and mehendi ceremony. This gift contains saris, mehendi, clothes for the pundit, dry fruits and cosmetics.

Wearing the chuda is absolutely necessary for every Punjabi Indian bride but sometimes due to circumstances the girl can seek the permission of her mother-in-law and opt for a lesser number of bangles. The time-period of wearing this chuda also varies from family to family but it must be worn for atleast 45 days. Some wear it even for a year.

Other states also wear auspicious bangles like in Rajasthan, the bride-to-be wears red and green coloured bangles called 'ichura'. In Gujarat the 'chudo' is worn along with green and red glass bangles.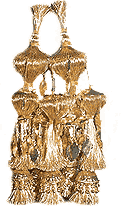 Tinkling bells of the Kaleerey
The chuda ceremony can never be complete without the 'kaleerey'. These dome shaped streamers with tinkling silver and gold bells are considered auspicious for the bride. The bride's cousins and friends tie them to the chuda. They are like blessings for the bride for her new life and also to remind her of her old friends. It is said that the bride has as many friends as there are leaves in the kaleerey. So the more leaves the merrier!

Sometimes coconut pieces and dry fruits are tied to the kaleerey. This is because during ancient times when the bride started for her husband's home in a doli, it would take days to reach her destination. She could thus feed on the coconut and dry fruits tied to her kaleerey. Times have changed and although it takes but a few minutes to reach anywhere, the significance of this ritual still stands strong.


Another tradition being that when the bride leaves for her new house she is supposed to hit her unmarried friends and cousins with the kaleerey. Whoever gets hit first will get married next. We also see a similar ritual in Christian weddings where the bride tosses her bouquet and the girl who catches it is purported to be the next in line to marry.

The dreams and desires of a contemporary woman may vary but it always needs something special to define her persona and reflect the woman that she is. Following the dictates of a poignant past and these tiny symbols of marriage can indeed make her feel so married and so much like a woman.



The price of chuda varies from Rs 250/- to Rs 2000/- depending on the material it is made of and the kind of work done on it. Some chudas are studded with semi-precious stones. Usually chudas are made of ivory or lac. Plastic chudas cost ranges from Rs 200/- to Rs 500/-. Since ivory is banned so pure ivory chudas are unavailable. They are thus made of bovine bones.

Kaleerey are priced from Rs 20/- to Rs 200/-.



Ritu Ghai
Wills Lifestyle Casual Top For Women
Pink Printed Tunic
Spykar's Denim Jeans For Women
Rs.1,999 ($41.52)
Rs.1,395 ($28.98)
Rs.2,135 ($44.35)
Rs.1,899 ($39.45)











Ask our Experts :
Expert Advice, Personality, Immigration (US), Tarot, Hot Couture, Body Care, Matrimonial Laws, Sexual Health, Life, etc, Man vs Woman, Fitness.