Top 3 Vacation Nightmares And How To Tackle Them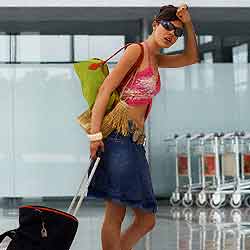 Most of my vacations have been an absolute ball and I've come back feeling rejuvenated and actually excited to get back to the grind. But every now and then I do have to face some problems while on vacation that end up putting quite a damper on my holiday.

And the worst part is that these problems were totally avoidable. So, if you too want your holiday to be as great as you imagined it to be, here's what you need to know about handling the top 3 vacation nightmares.

Vacation Nightmare #1: Being Robbed

My cousin and I landed at Heathrow Airport in London on a bright and sunny morning practically bursting at the seams to get the fun started. Little did we know that no sooner would we be stepping out of the terminal that someone would snatch my handbag and run (I really thought that happened only in movies!)?



My passport and quite a lot of my money were in the bag, never to be seen again. I spent the next two weeks getting a duplicate passport from the Indian Consulate there and did absolutely no shopping since all my shopping money was with the thief. Here's what you need to do to ensure that such a thing never happens to you:

Carry traveller's cheques and as little cash as possible. Having a couple of credit cards is also a better idea than carrying large amounts of cash.
Do not keep all your cash in just one bag or in one place. Keep some inside your handbag, some in your pocket, and some in your suitcase.
Purchase a guidebook about the place you are travelling to and check which safe places to visit and which unsafe ones to avoid.
If in a crowd, be aware of people closest to you and keep a tighter grip on your belongings.

Vacation Nightmare #2: Sorry, No Rooms Available

In spite of booking our rooms well before our travel dates and making the full payment for our 3 nights in advance, the reservation clerk informed us that they did not have any booking in our name.

After checking my receipt for the online booking, they admitted that the problem was from their end but since they had no vacancy they could not provide us with a room. I wanted my room; they didn't have any; and soon a shouting match started. My friend intervened, spoke politely to the management, and they offered to put us up in another resort. If you encounter the same nightmare, here's what you need to do:

Instead of shouting as it is the natural response, handle the matter calmly. Ask to speak with a senior reservation officer and politely explain the situation to them. Most hotels and resorts will find you suitable accommodation if they have made an error with your booking.
Always carry your booking confirmation and payment receipt with you.
Try and call the hotel to inform them if you're going to be arriving later than the regular check-in time so that they know you're coming and do not give your room to someone else.











Ask our Experts :
Expert Advice, Personality, Immigration (US), Tarot, Hot Couture, Body Care, Matrimonial Laws, Sexual Health, Life, etc, Man vs Woman, Fitness.

Copyright © 2021 Shaaditimes.com - A relationship and wedding portal by Shaadi.com. - All Rights Reserved.
Terms and Conditions