« continued from previous page


Luggage Buying Made Easy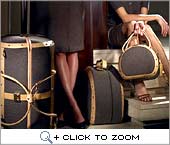 Frame and construction: Luggage that is constructed well and has a sturdy frame can last you for years on end. The best choices are aluminium frames, reinforced durable plastic frames, and fibreglass frames.

As for construction, check the seams, zippers, and handles of the luggage. Seams should be taped and lock-stitched so that if a particular seam breaks it does not cause the entire stitching to come undone. Zippers should be big enough to be opened and closed comfortably (the larger the zipper the better) and should be stitched on both sides not just one. The handle should fit comfortably in your hand and provide an easy grip. If the bag has a telescoping handle that can be pulled out when needed, make sure the handle runs outside the bag and not on the inside as that will leave you with very little packing space.



Luggage wheels: Wheeled luggage is the popular choice as it can be handled easily and without you breaking your back over it. Recessed wheels are a better option so that they do not protrude and the bag can be stored easily. Also, make sure the wheels can be rotated in every direction so that you can pull your luggage wherever you want to go and don't have to keep shifting it from hand to hand or manually changing its direction.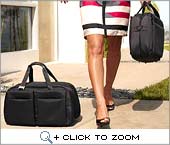 Weight: Most people think they don't have to stress over the weight of their luggage as telescoping handles and wheels have made it easy to use heavyweight luggage too. However, you will have to pick up your bags every now and then and it is best to have luggage that is light in weight. And with airline weight restrictions, you don't want to end up paying excess baggage for the weight of your empty luggage, do you? Choose light weight frames and fabrics. With the advances in technology, you can now find attractive luggage that is extremely lightweight, but yet very durable and strong.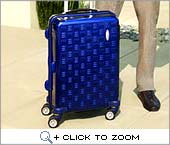 Added features: Look for added features in your luggage that helps make travelling that much easier. These include straps on the inside of the bags, pockets on the outside, clothes hangers and hooks inside the luggage, adjustable external straps that can be adjusted for height, waterproof fabrics, padded laptop and camera compartments.

In addition to the above factors, make sure you always check the luggage from the inside and not just from the outside. Do settle for one that you find attractive, is within your budget, and is high on functionality as well.

Ruchi Agarwal
20" Soft Trolley Bag
Encore Travel Bag
Sony DCR - 285 Handycam
Rs.1,450 ($30.93)
Rs.24,990 ($533.06)
Rs.889 ($18.96)
Rs.2,450 ($52.26)
Rs.18,990 ($405.08)











Ask our Experts :
Expert Advice, Personality, Immigration (US), Tarot, Hot Couture, Body Care, Matrimonial Laws, Sexual Health, Life, etc, Man vs Woman, Fitness.