5 Great Romantic Indian Hotels
Fall In Love Again!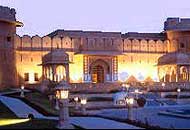 Re-discover your love and refuel your passion by visiting any of these 5 Great Romantic Hotels in India. These hotels are gorgeous retreats that have not yet been run over by enthusiastic tourists. Their isolation is one of their most appealing traits. 3 of them have even featured on Forbes' list of great Indian hotels!



Devigarh Palace Hotel:
The phrase 'heart-breakingly beautiful' was definitely coined for this amazing palace resort situated in Delwara, half hour drive from the city of Udaipur. Set atop a small hill, the fort palace is surrounded with beautiful lush gardens on one side that are perfect for taking long romantic strolls with your partner.

Highlight: If you get a strong sense of deja vu upon seeing the hotel, and having never been there before, don't start imagining possibilities of 'punar janam' and all that! Amitabh Bachchan's 'Eklavya' was shot at almost entirely at this hotel and hence the familiarity. If your spouse is crazy about the Big B like most of India, it will be like the proverbial cherry on top!

Hotel Rajvilas (Forbes' List):
Situated in the pink city of Jaipur, this hotel is the best of the Oberoi Vilas hotels spread across India. Choose from gorgeous luxury tents for an exotic romantic holiday with your lover, or go with one of the dazzling villas for the ultimate in privacy. Either way, you'll be so busy re-igniting your passion that you may just not want to leave!

Highlight: This is one of the cheapest 7-star properties in the world to stay at during the off-season. A great way to romance your spouse without breaking the bank.

Wild Flower Hall (Forbes' List):
Situated in Shimla, this property was once the summer retreat for the British Babus. Today, it is a stunning hotel with remnants of the Colonial Raj. The great service and helpful staff go to any lengths to make your stay memorable, making you feel like Royalty.

Highlight: Adventure buffs also have the option of mountainous treks and mountain bike riding; that is if you can make time off from all the activity you'll be getting inside your hotel room!

Amanbagh Hotel (Forbes' List):
A scenic two-hour ride from the city of Jaipur will bring you to Amanbagh Hotel, which is truly a desert in the oasis fit for maharajas and their ranis. Haveli type rooms, landscaped gardens, peaceful surroundings, and the loving ambience of the hotel will surely put you in the mood for some steamy passion and romance!

Neemrana Fort Palace:
An hour and a half drive from Delhi will bring you to this awe-inspiringly beautiful fort-turned-palace hotel. Having the distinction of being one of India's oldest heritage hotels, the Neemrana Fort Palace has every modern convenience you can imagine.

Cut into a small hillock, the hotel offers various steeped terraces and walkways for much-in-love couples. You can have complete privacy with your partner. The staff is so discreet that you'll wonder if there really is any! Even if the hotel is absolutely full, you'll still feel like the last two people on Earth!

Hightlight: Hotelier Vikram Chatwal choose this destination for one of his pre-wedding parties to gorgeous model Priya Sachdev.
Ruchi Agarwal
Laptop - Travel Laptop Backpack
Strolley Travel Bag
Encore Travel Bag
Rs.1,500 ($32.00)
Rs.599 ($12.78)
Rs.6,720 ($143.34)
Rs.1,799 ($38.37)











Ask our Experts :
Expert Advice, Personality, Immigration (US), Tarot, Hot Couture, Body Care, Matrimonial Laws, Sexual Health, Life, etc, Man vs Woman, Fitness.