Debonair Dude
Yuvraj Singh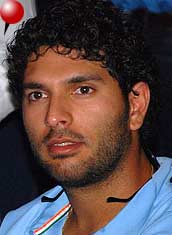 A prodigious player who loves to boogey with the beauties, Yuvraj Singh is the original poster-boy of Page 3.

After his unbeaten 95 in Vizag, Yuvraj Singh, 25, is the flavour of the month. As the Lankans will tell you, when Yuvi hits it, it stays hit. Little wonder then that the debonair dude from Chandigarh is a hit with the ladies as well. If his footwork on the pitch is legendary, so are his moves of it. Yuvraj can be seen setting the dance floor afire to boogie into the night on tours.

His liaison with starlet Kim Sharma has kept the glossies busy. So have his earlier reported dalliances with Mandira Bedi. "I can't help it if the media smells an affair every time I talk to a girl," he says.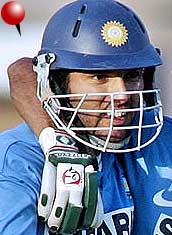 One of the hardest-hitting batsman in our squad to the World Cup, Yuvraj has devised a few de-stress mantras off the field. "I listen to trance and watch Hollywood films. I carry my own CDs and just adore Jim Carrey," he says.

With skipper Rahul Dravid and fellow batsmen VVS Laxman and Virender Sehwag bowled over by matrimony in quick succession, will Yuvraj too follow suit? "I'd guard my wicket. Being a bachelor can be a lot of fun," he says.

His mother Shabnam says Yuvraj's marriage plans are on hold. He was among India's leading run-getters during the 2003 World Cup and mom Shabnam wants an encore. Maidens, you can still bowl him over.


Shaaditimes News Correspondent
Wills Lifestyle Casual Top For Women
John Players Signature Line T-Shirt for Men
Applique Work Stripes Kurti
Rs.1,380 ($28.67)
Rs.1,495 ($31.06)
Rs.1,095 ($22.75)
Rs.1,200 ($24.93)











Ask our Experts :
Expert Advice, Personality, Immigration (US), Tarot, Hot Couture, Body Care, Matrimonial Laws, Sexual Health, Life, etc, Man vs Woman, Fitness.