Vijeta Dravid
The coolest one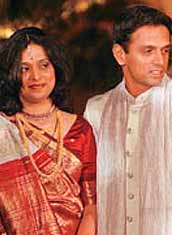 It is all in the stars. His rakish looks and dependable nature made Rahul Dravid perfect husband material. And after reported liaisons with movie stars, models and beauty queens (stoutly denied) the lady who bagged the prized wicket was none other than Nagpur-based doctor Vijeta Pendharkar. The Pendharkars and Dravids knew each other for 35 years and ultimately decided for their children to tie the knot.

The Dravids took the plunge on akshaya tritiya, one of the four auspicious days of the Hindu calendar.

After studying at Delhi's Air Force Bal Bharati School till standard X, Vijeta, daughter of a retired Air Force officer, completed her studies in Nagpur, where the Pendharkars shifted base.



Youngest of three siblings, Vijeta studied at Shri Shivaji Science College in Nagpur, then got her medicine degree and MS from the government medical college there.

Vijeta Pendharkar did not even know the 'C' of cricket when she married Rahul. But going with the wishes of the Indian captain, the good looking general surgeon has deserted the scalpel and embraced domesticity.

Now her world revolves around helping her husband cope with the stresses of meeting the expectations of a billion people and doting on their baby son. Samit Rahul Dravid, born in October 2005, is the cynosure of the Dravid family.

Vijeta's co-students in medicine school remember being aware of her family's close ties with Rahul's family. They also recall that Rahul would make it a point to meet Vijeta whenever it was possible.

So is it a love marriage, after all? The coolest one and his super spouse show a straight bat to this query with: No comment.


Shaaditimes News Correspondent
Wills Lifestyle Casual Top For Women
Wills Lifestyle Casual Top For Women
John Players Signature Line T-Shirt for Men
Rs.1,495 ($31.06)
Rs.1,395 ($28.98)
Rs.1,095 ($22.75)











Ask our Experts :
Expert Advice, Personality, Immigration (US), Tarot, Hot Couture, Body Care, Matrimonial Laws, Sexual Health, Life, etc, Man vs Woman, Fitness.