Champion Hour
Ravi Jaidrath Shastri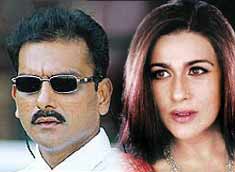 He is the debonair uptown boy with the street smarts. She is the tempestuous actress daughter of a firebrand politician. When Ravi met Dingy, sparks flew. Ravi Jaidrath Shastri, the Champion of Champions, has a special place in Indian cricket lore. His curly locks, lanky frame and lithe athleticism made him a darling of the masses. Among those interested in Shastri were Argentine tennis pin-up Gabriela Sabatini. He also caught the eye of a certain Amrita Singh, then an upcoming actress. The two painted the town red. When the romance was in full bloom, one television image that stayed in the minds of cricket aficionados was of the glam-doll Dingy cheering in the stands in Sharjah, whenever Shastri lifted the ball out of the park. Another high recall image shot by glamour photographer Jagdish Malli, where the two confessed to their fondness for each other on the candid camera.


Pundits called it the latest in the series of cricketer actress romances in the league of Gary Sobers-Anju Mahendru and Reena Roy-Mohsin Khan. Alas, like Sobers and Mahendru, their bonding was short-lived and did not go the Roy-Khan way, into matrimony.

Last heard, Shastri was snared by another glamorous lady: Model Kavita Singh and Amrita underwent a tumultuous marriage and divorce with actor Saif Ali Khan.


Shaaditimes News Correspondent
Wills Lifestyle Casual Top For Women
Cotton Kurta with Gold Print
Applique Work Stripes Kurti
Rs.1,000 ($20.77)
Rs.1,380 ($28.67)
Rs.1,395 ($28.98)
Rs.769 ($15.97)
Rs.1,200 ($24.93)











Ask our Experts :
Expert Advice, Personality, Immigration (US), Tarot, Hot Couture, Body Care, Matrimonial Laws, Sexual Health, Life, etc, Man vs Woman, Fitness.