Three men / women you would like to marry and why?




I wish I could marry the person I admire the most or the person I idolise. Well, that is all what we can wish for, unless it's a reality. Everybody has a list of people they really like, admire, idolise, get easily attracted to and what not. If given a chance you would not mind marrying one of them.


Here we have some celebs on their three choices. Who knows, in future we might find them married to one of their choices! Let's check

out the top three on their lists...

Sonu Sood

After giving a long thought..... some hesitations... Sonu finally made up his mind and told us the three gorgeous, talented females he would like to marry and why.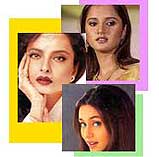 Rekha: She is so beautiful even now and I believe she'll never change. She is my childhood favourite.

Rani Mukherjee: She has been a very good co-star in Yuva. She is a great actor and a very simple girl.

Sania Mirza: She made India proud. She is a great sports person. She has placed India on the Tennis map.



Twisha Pal



Let's see what Mumbai's youngest set designer has to say. It seems for her sky's the limit and so are her choices: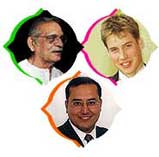 Gulzar: If he was 40 years younger I would have married him because he is the most romantic person and so charismatic.

Sabeer Bhatia: He is young, enterprising, intelligent. It is his brain power that makes him attractive and therefore he is a hotmale!

Prince William: For the obvious reasons. He is powerful, wealthy and he has status. If I marry him I will be treated like a Queen!



Jugal Hansraj

He really had to scratch his head... He simply said, "I am not ready yet... don't know what to say. I don't want to name anybody from Bollywood like everybody does neither am I going around with someone to name that person."

How can

the chocolate boy get away like that? When the question was framed differently and asked which were the three women he admired the most, Jugal still couldn't decide. He some how convinced himself to give us one name:

Keira Knightly: She was awesome in 'Pride and Prejudice'. She is a very good actor and seems to be very sweet. I can marry her three times over and over. I don't have a second and third choice.













Ask our Experts :
Expert Advice, Personality, Immigration (US), Tarot, Hot Couture, Body Care, Matrimonial Laws, Sexual Health, Life, etc, Man vs Woman, Fitness.

Copyright © 2019 Shaaditimes.com - A relationship and wedding portal by Shaadi.com. - All Rights Reserved.
Terms and Conditions