One, two, three... let's marry
One more than two reasons to marry




'Love me for a reason and let the reason be love'. Can we also say 'marry me for a reason and let the reason be love'? Most of you might not agree with this cliche. Of course, it's love in the first place, but it cannot be the only reason to marry. With marriage comes commitment and responsibilities and we start looking for something more than love before we decide to get married.



Shaaditimes caught up with some of the most popular buddies who got married after falling in love... Was love the only reason, or were there at least two more reasons to tie the knot? Let's find out...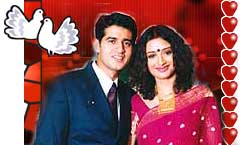 Gauri and Hiten Tejwani
This popular couple, on-screen and off, will complete two years of marriage this April. When asked to list three good reasons why they got married, Hiten immediately said, "Gauri is very caring. She is a good human being. She is very understanding. She knows exactly what I need and before I realise, it's done. She takes extra care of me but she does not like to show it. That is what has always touched me about her. She was the same even before our marriage." A giggling Gauri teased Hiten saying she is the kaam wali bai for him... ("that was just a joke") but when it was her turn she got serious. "I got married to Hiten, because of his simplicity, honesty and his ability to love everyone around him and not just because I loved him or he loved me."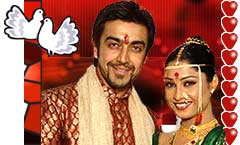 Samita and Aashish Chaudhary
This couple tied the knot recently. Eight years of courtship gave them reason enough to get married. "Aashish is more than a husband and much more than a friend. He is my best friend. And I had decided that I would marry my best friend and so it is. Someone with whom I can be myself. He is very understanding and we are very much compatible." With a satisfaction in her voice she says, "Before we could get married people asked me whether I am marrying Aashish just because I dated him for eight long years and my answer was 'No. I married Aashish because for eight long years he was my best friend and will always remain my best friend. He is the only one who can understand me inside out.'"

For Aashish there was no looking back. He was sure there was no one better than his love, his choice. "The first main reason why I married Samita was that I knew I would not find anybody better than her. She suits me just fine. Three years of friendship, eight years of courtship was long enough and I knew there was no way out... (laughs) just kidding... it's not an excuse, in another way I knew she was the only one I would like to get settled down with. I couldn't think of living a parallel life with someone else, cannot go with any other girl. Samita loves me a lot. She is more than a wife to me. She is a very good friend. We are done with the loving part, now it's more than that. It is trust, understanding, compromises in marriage. Before, we used to fight on small things and get angry with each other. But when we got married, we knew whatever it may be, we would love each other and understand each other more. We both knew at the end of the day, we have to go to bed together."













Ask our Experts :
Expert Advice, Personality, Immigration (US), Tarot, Hot Couture, Body Care, Matrimonial Laws, Sexual Health, Life, etc, Man vs Woman, Fitness.

Copyright © 2019 Shaaditimes.com - A relationship and wedding portal by Shaadi.com. - All Rights Reserved.
Terms and Conditions