Odd couple
Sourav Ganguly and Rahul Dravid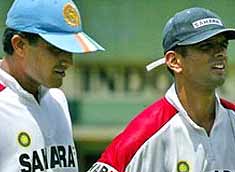 They are Indian cricket's first odd couple. Mr. Cool Dravid once showered the encomium 'God on the off side' on Dada. Flamboyant Sourav tore his shirt open at the Lord's balcony - the haloed turf where both made their debut. When Jammy succeeded him as skipper, pundits wrote Dada off. The face-off with Chappell and the magical comeback are now part of Indian cricket lore. Together, at Taunton against Sri Lanka during the 1999 World Cup, Dravid and Ganguly amassed a second wicket partnership of 318, the first 300-run partnership in the history of ODI cricket. The writing on the Wall: The duo is a world-beater. Can they do it again in the Caribbean?


Shaaditimes News Correspondent
John Players Signature Line T-Shirt for Men
Pink Printed Tunic
Wills Lifestyle Casual Top For Women
Rs.1,095 ($22.75)
Rs.2,135 ($44.35)
Rs.1,495 ($31.06)











Ask our Experts :
Expert Advice, Personality, Immigration (US), Tarot, Hot Couture, Body Care, Matrimonial Laws, Sexual Health, Life, etc, Man vs Woman, Fitness.