Prima Dona Ganguly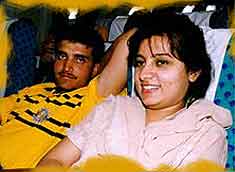 On Sourav Ganguly's bedside, besides an idol of Goddess Durga, is a framed photograph of his wife doing the Odissi.

Even when her husband fell from grace, was dropped from the team and cooled his heels, the ever-graceful Dona Ganguly took the world in her lithe stride. While Sourav Ganguly's career has been a roller-coaster ride, the calming influence comes from his wife Dona whose dance moves keep her in demand.


Taking to the dance form on the insistence of her mother who thought Dona was a finicky eater and Odissi would help her appetite, she learnt the nuances of the dance from Amala Shankar, wife of legendary dancer Uday Shankar and subsequently perfected them under the tutelage of Odissi doyen Kelucharan Mohapatra.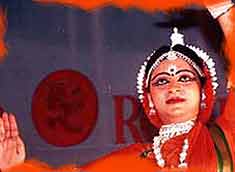 Their romance had nothing to do with cricket. Dona literally fell in love with the boy next door - just a wall separates the Ganguly and Roy households - who was a natural athlete and played badminton really well. She waited for the shuttlecock to fall on her side of the wall so that she had another excuse to talk to Sourav.


Unperturbed by rumours of Sourav's secret liaisons and marriage to actress Nagma, Dona always maintained a tactful silence that kept the marriage going and brought Dada back where he belonged.

And her fame has reached a corner of the globe where they may not have heard of cricket. After an electrifying Odissi performance Frank M. Jordan, the Mayor of San Francisco city declared July 8, 1995 as "Dona Roy Day."


Shaaditimes News Correspondent
Spykar's Denim Jeans For Women
John Players Casual T-Shirt for Men
Wills Lifestyle Casual Top For Women
Rs.1,999 ($41.52)
Rs.1,899 ($39.45)
Rs.995 ($20.67)
Rs.1,395 ($28.98)











Ask our Experts :
Expert Advice, Personality, Immigration (US), Tarot, Hot Couture, Body Care, Matrimonial Laws, Sexual Health, Life, etc, Man vs Woman, Fitness.