Mane course
MS Dhoni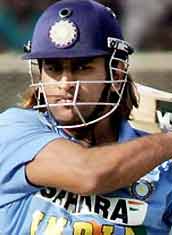 It's raining marriage proposals for MSD. Long considered Jharkhand's most eligible bachelor, Mahendra Singh Dhoni is amused over gossip centred on matrimony. "I am waiting for the day when the Media would invite me to my own wedding," he quipped recently. His sister Jayati has confirmed that his family was flooded with marriage proposals after his swashbuckling innings of 183 against Sri Lanka in Jaipur, which included 10 spectacular sixers!!

He may have been chosen the MTV Youth Icon of 2006, but Dhoni styles himself on Bollywood hunk John Abraham. Like John, Dhoni is passionate about his tresses as well as bikes.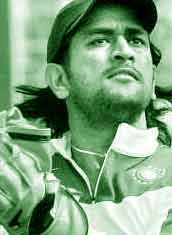 Mahi, as friends call him, loves dirt biking. On weekends, he can be seen flying on his dream machine, a Kawasaki Zx 14, from hometown Ranchi to Jamshedpur. He recently created ripples, when a constable who booked him for driving around in an SUV with tinted glasses, was suspended.

The son of a pump operator who migrated to Ranchi to make a living in Uttaranchal, the milk guzzling Samson of Indian cricket has climbed up to No. 2 position in the International Cricket Council's ratings.

While putting him among the most popular bachelors in the country, a popular weekly magazine reckoned that a good way to net Dhoni would be to turn into a hairstylist. Sure enough, on the eve of the Indian team's departure to the Caribbean, a newspaper splashed his photograph, coming out of the team hotel, hand in hand, with celebrity hairstylist Sapna Bhavnani. Now that's what we call a prize catch.


Shaaditimes News Correspondent
John Players Signature Line T-Shirt for Men
Applique Work Stripes Kurti
Spykar's Denim Jeans For Women
Rs.1,380 ($28.67)
Rs.1,999 ($41.52)
Rs.1,095 ($22.75)
Rs.1,200 ($24.93)
Rs.1,899 ($39.45)











Ask our Experts :
Expert Advice, Personality, Immigration (US), Tarot, Hot Couture, Body Care, Matrimonial Laws, Sexual Health, Life, etc, Man vs Woman, Fitness.