Festival Trivia 2007
Titbits about Navratri, Karwa Chauth and Diwali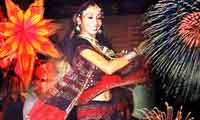 Most of us know plenty of titbits about the upcoming festival season like - fasting on Karwa Chauth is for the long life of the husband and Diwali is celebrated in honour of Lord Rama's triumphant return to Ayodhya. But, did you know that there are many lesser-known facts about Indian festivals?


Did You Know That...?
...Goddess Durga was customarily worshipped in the month of March during Basanti Puja and not during Navratri? The current tradition of worshipping Durga during Navratris was started by Lord Rama. It is believed that Lord Rama performed a Durga Puja before he went to fight Ravana, even though it was not the correct time of the year, because he wanted Her blessings. This is where the tradition of Durga Puja during Navratris was born.

...In Kerala, Navratri is synonymous with the tradition of 'Vidhyarambham'. Since this is considered an extremely auspicious time, children start their education on this day.

...dandiya Raas is not just a simple dance form from Gujarat. It is really the enactment of a fake fight between Goddess Durga and Mahishasur, the powerful demon-king, whom Durga defeated in battle during the Navratris. And yes, the dandiya sticks are meant to represent Durga's sword.

...Garba should always be performed before the Durga Puja (to honour the Goddess); while dandiya should be performed after the Aarti is complete. Somewhat like a celebration dance.

...All over India, the effigy of Ravana is burnt on Dassera, but not so in the village of Agar. Here, the effigies of Meghnath and Khumbakaran (Ravana's relatives) are burnt and Ravana himself is spared. This is because a young woman of the village called Ganga, was deeply in love with Ravana and her powerful love transformed even the cruel Ravana into a person as holy as Rama.

...In many parts of India, unmarried women also keep a fast on Karwa Chauth day, as this is believed to get them a very handsome and prosperous husband.

...Legend goes that Goddess Parvati liked playing dice and did so with Lord Shiva (her husband) on Diwali too. After this, she decreed that everyone who gambled on Diwali night would thrive throughout the rest of the year. This is where the tradition of playing cards on Diwali night originated.

...It is believed that Goddess Lakshmi enters people's home on Diwali night. This is why everyone cleans their homes before Diwali and lights up their homes with Diyas so that Goddess Lakshmi cannot miss their home. Another belief goes that if you spot an Owl (Lakshmi's 'vahan') on Diwali night, Goddess Lakshmi has definitely blessed your home.

...Diwali is one of the biggest festivals for Hindus, but in Kerala, they do not celebrate this festival.

...Apart from India, Diwali is celebrated with great pomp and fervour in other countries like Malaysia, Thailand, Singapore, Trinidad and Siam.

...Nothing positive is done on Amavasya (no moon) night as it is considered to be an extremely inauspicious day. But, Diwali is celebrated on this very night only. How about that???

...As many as 80% of all the fireworks that are used during Diwali are manufactured in a small town called Sivakasi, which is in Tamil Nadu.

...The first ever firecracker to be created was a simple bamboo piece that was filled up with gunpowder. This bamboo was then thrown into the 'fire'; it would 'crack', the gunpowder would ignite and boom! That's how the word 'Firecracker' came into being.

...Almost all over India, firecrackers are traditionally burst in the evening. But in Tamil Nadu, people burst them in the morning.

...Two days after Diwali, Yamraaj (the God of Death) went to his sister's home and she put a vermilion 'tika' on his forehead as a mark of protection. Yamraaj thus decreed that all brothers who visited their sister's homes on this day would be protected from him. This is how the tradition of Bhai Dooj started.

...In some parts of India, Bhai Dooj is not just celebrated two days after Diwali, but is also celebrated two days after Holi.

If you have some festive trivia please go ahead and share it with us.

Ruchi Agarwal
John Players Signature Line T-Shirt for Men
Wills Lifestyle Casual Denim For Men
John Players Signature Line T-Shirt for Men
Rs.1,095 ($22.75)
Rs.1,695 ($35.21)
Rs.1,095 ($22.75)











Ask our Experts :
Expert Advice, Personality, Immigration (US), Tarot, Hot Couture, Body Care, Matrimonial Laws, Sexual Health, Life, etc, Man vs Woman, Fitness.