Try again - a second time?


A gut wrenching account of a girl who was married off to a doctor who was a schizophrenic!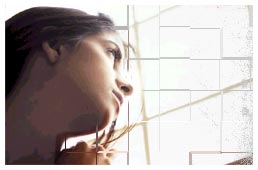 About me:
I was young, beautiful 25-year old young lady; one who excelled in sports, music dance, drama and debates and had recently enrolled myself in a PhD program. I can safely say that I was the ideal Hindi movie, college scene bubbly heroine, the guys were flipping for and ultimately proposing marriage to! My parents and I frequently had serious arguments about my so-called "boyfriends", as they were dead against the idea of love marriage. Most of the time I was branded as a girl with a loose character only because guys were always falling in love with me. My parents, afraid for the fear 'rishtedars', were always hounding me with the 'right kind' of marriage proposals, especially if I headed in for a love marriage. I mean... what would they all say, if I married someone who did not fit their image of an ideal life partner?



The arrival of Prince Charming:
One morning as I was preparing for my preliminary IAS examinations, I got the news that I had to head home immediately; to meet this guy from the US, a PhD, gold medallist, from IIT. Dad had seen his credentials, thanks to an advertisement in the newspaper and had met his parents as well. Moreover our horoscopes were equally well matched. So now the arrival of my prince from America was much an awaited event. After all, he was coming all the way from the US to marry me.

Marriage, and the furor:
Well, we did get married in 3 days. A week later, I realized that the guy I married, behaved strangely as a husband, much less as a human being. It turned out that the guy had chronic schizophrenia, since the past 6 years. The medication he took kept him from performing! His parents and family knew about it, a minute detail, which they felt unimportant enough to mention, either to me or to my parents.

Come to think of it, I did not know about this until the completion of 2 years of married life. In those 2 years, I went into a deep depression, struggled to put up a cheerful front, but was mentally unable to concentrate on my PhD. To the world I was the heroine who was married to this hero in America and I only had to finish my PhD in India and move to the US to live my dream. But the reality was far from it! I did protect my husband's image, as I wasn't sure of what in the world was happening around me! After all, how could I ruin my own husband's reputation? How could I bring in the taboo of being the first woman, who took the 'initiative' of breaking her marriage in the entire dynasty? I kept quiet, confided in no one, but myself.

Finally staggering through, I completed my PhD in all nervousness and apprehensiveness. I left the familiar comfort of my parents and friends, came alone to the US to face the unknown that was now known to me.

The news of my husband's schizophrenia was less of a shock as perhaps a bigger shock was his life style, his complete lack of friends, marked with utter pessimism. I finally confided in an aunt in the US who worked in a mental hospital. She took me under her wing, and saw me through my divorce.

A new lease of Life:
My husband and I parted as friends, but deep down I knew I was devastated. In my heart I knew I had the taboo of divorced women on me! I was scared to think that I might never be able to find anyone to be my life-partner again. Nevertheless, it seemed like a better choice. So I picked up the pieces of my shattered life again and begin afresh.

Today, I work in a UN organization, a post many guys would kill to have! After 12 fruitful years, having regained my faith in humanity, I Salsa in clubs and I have performed in several musical shows. Thanks to all that I did, I am my bubbly self again. I work out, have many wonderful friends, my younger brothers are married with kids, and I stand alone in the family picture!

Read more stories of some courageous people who came out strong after a bad experience.


Arzoo
Applique Work Stripes Kurti
Cotton Kurta with Gold Print
Pink Printed Tunic
Rs.1,380 ($28.67)
Rs.1,000 ($20.77)
Rs.1,200 ($24.93)
Rs.769 ($15.97)
Rs.2,135 ($44.35)











Ask our Experts :
Expert Advice, Personality, Immigration (US), Tarot, Hot Couture, Body Care, Matrimonial Laws, Sexual Health, Life, etc, Man vs Woman, Fitness.