Mumbai - Don't Bounce Back!


60 hours of terror, 195+ dead, countless injured, a billion hostages.

It will take a long time, perhaps even a lifetime, to get over the horror that we have recently witnessed in Mumbai. It is difficult to express the magnitude of emotion that continues to run through each one of us - fear, grief, anguish, anger.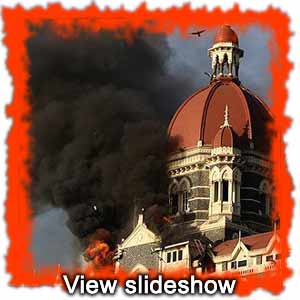 Every time terror strikes and innocents are killed there begins a cycle - of post-trauma clean up, of political posturing, of finger pointing, damage control and 'getting on'. After a few days, everyone has forgotten about what exactly happened and Mumbai prides itself on being undaunted, unwilling to give in and the ability of its people to do what needs to be done.

However, is this ability to 'get on' really about resilience? Or is it more about apathy? Can Vijay Salaskar, Hemant Karkare and Ashok Kamte's family ever 'get on'? Maybe it's time we refuse to 'get on'. Maybe it's time we show the world that we remember, that we care, that we will do what needs to be done.

For once, Mumbai will not bounce back.

It's time, Mumbai SHOULD NOT bounce back.

What YOU can DO:


Stop complaining at airports, hotels, theatres, malls when you have to wait in long queues for security checks.
VOTE. Choose responsible officials. Exercise your right to Vote.
Never complain when you have to stand up for the national anthem, because the reason you stand is in respect for those who lost their lives defending India.
Work hard to build the legal system.
Work hard to remove corruption from its root. Stop bribing officials and stop accepting bribes. Stop turning a blind eye to people who do the same.
Do not divide people or get divided.
Pooja Mittal-Aggarwal
Wills Lifestyle Casual Denim For Men
Cotton Kurta with Gold Print
Pink Printed Tunic
Rs.1,000 ($20.77)
Rs.1,695 ($35.21)
Rs.769 ($15.97)
Rs.2,135 ($44.35)











Ask our Experts :
Expert Advice, Personality, Immigration (US), Tarot, Hot Couture, Body Care, Matrimonial Laws, Sexual Health, Life, etc, Man vs Woman, Fitness.