'Each generation is a new people,' observed Alexis de Tocqueville.
This being the case ShaadiTimes takes a ring-side view at three generations- kal, aaj aur kal . How different is Gen X from their parents and grandparents? On what issues do they differ most and on what least?
Every generation is a melting pot of different kinds of people. Attitudes, mindsets and ideologies reflect each generation's interpretation of life.
In triple speak no one generation is either right or wrong. It is a point of view.



Do you impose a dress code on your wife?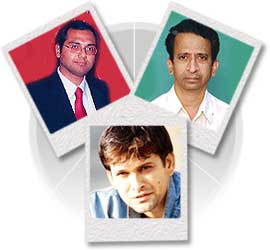 Supratik Biswas, HR Manager


I won't lay down a dress code for my wife explicitly. I am okay with it untill it is acceptable in our kind of traditional Indian society. We all have to live within the society and have to follow some norms. The same short skirt would not have been a problem if our society was as free and as bold as the US where people don't care about such things. But in our society you will be looked down on for wearing indecent or provocative clothes. People would also pass snide comments or lech at you which I would not be able to tolerate.


Sameer Dharmadhikari, actor
I would never lay down any strict dress code for my wife. I would have no issues unless it is too revealing or not appropriate for a particular ocassion. For eg, when we go out on a Saturday night to a disco she should be wearing a nice pair of jeans, for a family function she would be dressed in a traditional saree and for a party she should be wearing a beautiful suit or any thing she is comfortable in. But I would love to see her dressed up once a week just for me and keeping in mind my choice.



Sharad Kale, Mechanical engineer


I think Indian women look most graceful in a saree . I do not like women wearing western outfits. I would like my wife to be dressed in a saree always.


A shaaditimes feature
Encore Ladies Handbag
Encore Ladies Handbag
Roses n Wine
Rs.3,250 ($67.51)
Rs.3,450 ($71.67)
Rs.1,699 ($35.29)











Ask our Experts :
Expert Advice, Personality, Immigration (US), Tarot, Hot Couture, Body Care, Matrimonial Laws, Sexual Health, Life, etc, Man vs Woman, Fitness.