Lessons From The KS Part 13: Testing Times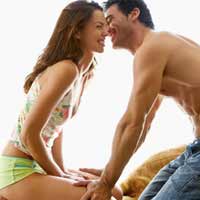 "She likes me, she likes me not, she likes me, she likes me not..." So you've made advances to her but are not sure whether your means are having the right effect. No problem - the Kama Sutra can help you decipher her mind.

Women are quite simply, either frank or not frank - so says Vatsyayana.

"If a woman immediately reveals
Her feelings through her signals,
He can make advances to her
Quickly, right at first sight."
So much for a frank woman, she makes your task so much easier! And how can you gauge a woman as being frank or not?


The Kama Sutra describes a frank woman as she who returns a frank answer, even when given slippery [unclear] signals.

But while frank woman are so much easier to win, elusive women require a step-by-step approach. Call it a go-slow tactic or whatever - it basically involves your signalling your interest and proceeding further only when you are certain of acceptance.

Hence, Vatsyayana says (for women who aren't frank):

"If a man sees, through a woman's replies, That she has grasped and accepted his signals, Then, with no further hesitation, He makes advances to her."

Here are a few more nuggets of wisdom that may help you determine what she has in mind when she doesn't say a word:
There are women who don't accept your advances but keep coming back to meet you. This signals their mind is divided so they may be won over - but gradually.
Some women tolerate many advances but do not give way even after a considerable length of time has passed. Such women are a tease - the more you strive, the more fun they have! Instead, win them over by breaking off all intimacy.
At times, a woman may simply refuse to see you if she realizes you have made an advance. Such women may be won over with much difficulty, by establishing intimacy with the help of a female messenger who knows her weaknesses, or what will kindle her interest in you.
A woman may talk tough when you make an advance. This makes your job very difficult. If you can read love between her harsh words, pursue her, else back off!

Persistence pays!

Here are some other situations that are easier to make sense of:
A woman doesn't seem to be getting close to you, nor does she resist you.
A woman accidentally brushes by your arm. Or she supposedly picks an insect off your hair.
Or you notice something on her person and brush it off, and she sees you do so but pretends not to notice.

These are all opportunities to banter. You have already established very casual intimacy, but chitchat will lead to something deeper. As described in the Kama Sutra,

"At first, he achieves intimacy,
And then a conversation.
And in the course of the conversation
They understand one another's signals."

In other words, slow and steady wins the woman! Rush her, and she'll clam up. Charm her with your words and deeds, and watch her fall head over heels!

P.S. Next week, we look at the kinds of women you could use as a female messenger, if and when you need assistance in making your next move.

Be sure to subscribe to the Shaaditimes newsletter to get your issue.


Read More
Does Self-Pleasure Have Place In A Relationship?
5 Recipes To Take Into Bed With You


Charu Bahri
Encore Ladies Handbag
Encore Ladies Handbag
Wooden Jewellery Box With Tile
Rs.925 ($19.21)
Rs.3,450 ($71.67)
Rs.3,250 ($67.51)
Rs.749 ($15.56)











Ask our Experts :
Expert Advice, Personality, Immigration (US), Tarot, Hot Couture, Body Care, Matrimonial Laws, Sexual Health, Life, etc, Man vs Woman, Fitness.