Make Love To Your Woman Without Touching Her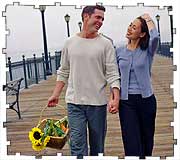 Men who take the time to prepare their woman's body for lovemaking make excellent lovers. Indulging in foreplay, kissing your woman, cuddling with her, and basically getting her body excited... all that is stuff that you probably already know about.

So, if you're willing to put your partner's pleasure before yours, then making love to your woman should be a satisfying experience all around.


Now what if we told you that you can make love to her without actually touching her? Getting her to feel the same sense of excitement, practically ready to burst at the slightest touch, and yearning for your lovemaking - all that is possible without even laying a finger on your woman!

The key lies in exciting your woman's mind and preparing her emotionally for some great sex. Most men may not be aware of this, but a woman needs her mind to be as engaged during lovemaking as her body is, perhaps more. Lovemaking is more of a physical thing for men; but for women the emotional aspect coupled with the physical intimacy is what makes their hearts soar. So, if you really want to be an incomparable lover, preparing your woman's mind for sex (before you turn towards her body) is the only way to go.

Don't worry, we won't just stop at telling you what but will also show you how!

Have the right attitude: When we talk of attitude, it's a romantic attitude that we're referring to. Candle light dinners, flowers and wine are great romantic trappings, but without a truly romantic attitude, these will get you nowhere. The secret to being ultra romantic is to flood your woman's mind with love, passion, thoughtfulness and a lot of fun. Show her what she means to you every chance you get. Making her feel secure in your relationship makes for some of the best sex you can have.

Find out what tickles her romantic bone the most and go for it. For instance, one woman may want to be wooed in the traditional way with romantic dinners and fine wine whereas another may think of a moonlight walk in the park to be truly romantic. It is for you to find out what your woman wants and then give it to her!

Tell her what she wants to hear: Here are some things that practically all women love to hear, which puts their minds in a great mood with their body following right along!


Notice changes in her physical appearance and compliment her on her looks. Don't restrict your compliments for occasions when she is dressed to the nines, but tell her nice things even when she is dressed casually.
Tell her that her scent drives you absolutely wild.
Don't assume that she knows how you feel about her, but tell her explicitly in words. Also, tell her exactly how you feel when you make love with her. Yes, it's not as easy as it sounds, but hearing you say it aloud will help her to overcome her inhibitions and open her mind for great sex.
Always brag about your partner in front of friends and family to make her feel special. Do it even when she isn't around because believe me, word will get around to her.

By doing all of the above, what you'll achieve is to draw your lover's mind into a state of longing and desire. She'll be more than ready for you to satisfy those desires and you in turn will get uninhibited sexual response from her. All this without even touching her!

Ruchi Agarwal
Titan Raga Watch for Women
Fresh Fruit Cake
Tamar Khaleeji Omani - Dates With Dryfruits
Rs.4,200 ($87.25)
Rs.899 ($18.67)
Rs.648 ($13.46)











Ask our Experts :
Expert Advice, Personality, Immigration (US), Tarot, Hot Couture, Body Care, Matrimonial Laws, Sexual Health, Life, etc, Man vs Woman, Fitness.