Lessons From The KS Part 9
Give Him What He Wants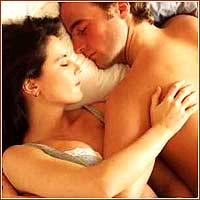 It's one thing to find and pair with the husband of your dreams. It's quite another to keep him satisfied. We run through a few pointers from the Kama Sutra on giving a man what he wants...

It goes without saying that every man is different, and has his own preferences. Nevertheless, the Kama Sutra presents a general take on what a woman's behaviour with her man should be – ''She makes him love her but does not become attached to him, though she acts as if she were attached.''


The secret is thus to be involved without being dependent on your man. After all, men don't like women who whine, or have no personality of their own.

Yet speaking of attachment, if your man is attached to you, profess to be by his side even after death. So how can you gauge his attachment? Vatsyayana says you should judge the way he trusts you with his true feelings, whether he adopts a lifestyle you prefer, if he happily implements your plans, is not fussy about money matters, and is not the suspicious type.

Asides, there are a host of little acts - related to your sexual life - that you can do to keep that smile (nay, smirk) on his face, such as:

Express wonder at what he does for you when making love.
Be open to learn the arts of love, from him or together from the Kama Sutra. Practice your newfound arts on him!
Share your secret desires.
Don't play hard to get when he's in the mood for romance.
Give him a kiss and embrace while he's half asleep.

Here are a few more suggestions from Vatsyayana that relate to your day-to-day life:

Make a habit of dressing well, and wearing jewellery appropriate for the occasion.
Share your likes and dislikes of people, pleasures and sorrows.
Don't harbour ill-feelings after a row.
Talk less about your feelings for him, and make a show of your passion instead.
Pay attention to what he says. Make a conscious effort to grasp his point.
Steer clear of praising other men, and blaming other men for weaknesses you identify with your man.
Keep the gifts he has given you over the course of your life together.
Don't differentiate between what is his and yours.
Attend social gatherings together, and express a distaste to socialize alone.
When he travels, express your longing for his return.

Above all, appreciate his lineage, character, background, friends, and so on. Men (like women!) love praise, most of all coming from someone they love and perceive as their own. So make a conscious effort to align your desires, feelings and character with his.

Be sure to subscribe to the Shaaditimes newsletter to get your issue.


Also Read
Lessons From The KS - Kissing Part 1
Lessons From The KS - Kissing Part 2
Lessons From The KS - Selecting Your Man
Lessons From The KS - Embracing
Lessons From The KS - An Ideal Wife
Lessons From The KS - A Bond That Lasts A Lifetime
Lessons From The KS - Men - That Women Love (Part I)
Lessons From The KS - Men - That Women Love (Part II)
Lessons From The KS - The Run Up To Sex
Lessons From The KS - Is She Your Kind Of Woman?
Lessons From The KS -Is It Over?


Read More
Does Self-Pleasure Have Place In A Relationship?
5 Recipes To Take Into Bed With You

Charu Bahri
Day Wear Shoulder Bag for Women
Fastrack Watch For Men
Cuban Crunch
Rs.3,850 ($79.98)
Rs.1,095 ($22.75)
Rs.899 ($18.67)











Ask our Experts :
Expert Advice, Personality, Immigration (US), Tarot, Hot Couture, Body Care, Matrimonial Laws, Sexual Health, Life, etc, Man vs Woman, Fitness.