Perfect 10 For A Good Marriage Part VIII
Sincerity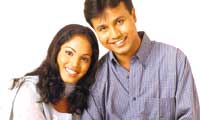 Marriage: A Heartfelt Affair

Sincerity is not about being boring. It means taking determined steps to ensure that 'boredom' stays out of your marriage, by opening up, and meaning what you say and do!

How irritated do you feel when you have to deal with people who don't seem genuine - the kind who say something when inside, you know perfectly well that they mean something else, perhaps the contrary?


It would be quite safe to say that none of us enjoys dealing with such wishy-washy types, even though the real world abounds with all sorts. But at least, most of us sigh in relief, at the end of the day, we can look forward to going home to a sincere partner - who doesn't merely deliver lip service, but backs up genuine words with heartfelt actions.

Sincerity - derived from the Latin word 'sincerus ' - is all about being pure. If that sounds a tad boring, especially in context with what you'd hope is a 'fun and fanciful' relationship (in every sense of the word!), translate it as meaning 'being genuine through and through - in fun times and serious moments.'

Sincerity rules a marriage

Sincerity is what drew Rohit to Asha when they were first introduced. Over to Rohit - "I was floored by Asha's sincerity towards everyone she interacts with. Being a businessperson, I value sincerity for its ability to make or break million dollar deals.

At work, we often refer to sincerity as a 'What You See Is What You Get' quality. So the prospect of having someone who actually lives the same value in her daily life, as my life partner, was really comforting. I felt she'd always be strong, and stay by my side to weather every storm that comes our way."

Tall praise indeed! Down-to-earth Asha's take is - "No one forces you to marry. You marry of your own accord. It's a decision that comes from your heart. Let your heart speak through everything you say or do for your partner - that is simply what sincerity is. It's immensely touching - quite unlike any physical touch!"

No pretences

Needless to say, Rohit and Asha are happily married. They both value sincerity, and the reassurance that it bequeaths. Asha believes that if your marriage is the life you chose, sincerity is what sees you work to make it a success!

After all, she reasons, if you're genuinely happy with your marital status and your partner, why not express your feelings, and use it to add a few notches to your partners comfort level?

What's the point of pretending to be someone you aren't? Take Nikita for instance. She never believed in idol worship. However, when she got married, she started praying every morning to show Rajiv how devoted she was. Rajiv started believing that he had an extremely religious wife while all of Nikita's friends and family sniggered about it.

Eventually this blew up in her face. Rajiv figured things out and was justifiably angry - not because Nikita differed in her religious beliefs from him but because she was not sincere in expressing herself and her beliefs to him.

That brings up another vital aspect of sincerity - steering clear of pretences. Asha questions - "Marriage is a relation for keeps. Being natural with your partner, meaning what you say and do, is to be sincere. How long can you keep up pretences?"

Moreover, why shouldn't you be genuine? Think about it - who will you open up to, if not your better half? The more you're sincere, the more each of you know about your partners' likes and dislikes, and the easier you feel in each others' company. And that, undoubtedly, will make for a cosier marriage!

P.S. You'd like to be sincere, but sometimes your partners' behaviour drives you up the wall! Patience pays, my dear, and next time, I'll tell you why!

Be sure to subscribe to the Shaaditimes newsletter to get your issue.

Also read:

Charu Bahri
Titan Raga Watch for Women
Chocolate Fudge Walnut Brownie
Cuban Crunch
Rs.4,200 ($87.25)
Rs.701 ($14.56)
Rs.899 ($18.67)











Ask our Experts :
Expert Advice, Personality, Immigration (US), Tarot, Hot Couture, Body Care, Matrimonial Laws, Sexual Health, Life, etc, Man vs Woman, Fitness.