Is Your Sex Life Ruining Your Marriage?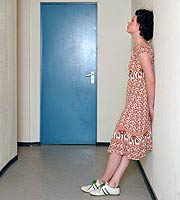 In western society, couples who are planning to tie the knot give a more than serious thought to sexual compatibility. But in India, that is often not the case.

Not that we don't wonder whether or not we'll be sexually compatible with our partners, it's just that we don't openly talk about it. If you cannot communicate with your partner about a particular issue, it's bound to affect your marriage sooner or later. Same goes for sex.

Too little of a good thing...

Aditi and Neerav were a typical married couple. Both worked, shared in the responsibilities of the house and children, and were in a comfortable marriage. While everything looked fine on the face of it, Aditi and Neerav seemed to be drifting apart and couldn't put their finger on why. As is the habit of women to talk about things with their friends, Aditi too confided in her friend Seema about this.


'Neerav and I just don't seem to be connecting anymore. We go out, we have fun with the kids, and we rarely even fight. But I don't know... nothing seems intimate anymore,' was what Aditi felt. She was talking about the lack of intimacy in her marriage. Now, Aditi is the sort of person who doesn't believe that sex is the be-all-and-end-all of marriage. Sex is not everything in a marriage, she complained! To which Seema said, 'It's not everything, but as far as men are concerned it's the only thing!'

Like it or not, Aditi had to stop and consider that sex (especially the lack of it) is a major issue for men, and could be the thing that was missing from hers. She worked up the boldness to talk to Neerav about it and finally realized that he was quite unhappy with their sex life, but didn't want to say anything to her for fear of sounding like a sex-crazed lunatic!

It was not like Aditi didn't enjoy the physical intimacy with her husband. But caught up in the daily routine of life, there just wasn't enough time for things and sex just happened to take a back seat. Without the physical connection, their intimacy and closeness suffered which ultimately affected their marriage considerably.

Too much of a good thing...

When asked to describe their sex life in one word, the first word Diana and Ronnie came up with was 'Explosive!' Being recently married, the couple jumped into the sack every chance they got and then some!

After a few months, while Diana's fervour seemed to die down a little, Ronnie's passion was as strong as ever. At first, Diana didn't mind that her husband's libido was greater than hers, but soon she found that her sex life was becoming more demanding than she could handle. She started staying at work late so that her husband would be asleep before she got in, she left early, began spending weekends at her mother's and stuff like that. Obviously, her marriage suffered the brunt of her actions.

Here again, it's not that Diana did not want to be physical with Ronnie. It's just that she wanted intimacy without feeling pressured to have sex every time she got close to Ronnie. The smarter way to handle things would have been to talk to her husband and make him understand what she needed. But since we don't always do the smart thing....

So you see; whether you're having too little sex or you're feeling pushed into having more than you want to, an unsatisfying sex life can put a lot of strain on the best of marriages.

It is important to make time for intimacy and lovemaking in a marriage, no matter how busy your days are. It is equally important to talk to your partner if things seem to be getting too much for you.

And if you still think that your sex life doesn't have so much power that it can actually ruin your marriage, well... think again!


Ruchi Agarwal
Roses n Wine
Encore Ladies Handbag
Asmi Diamond Pendant
Rs.1,699 ($35.29)
Rs.3,450 ($71.67)
Rs.8,670 ($180.10)











Ask our Experts :
Expert Advice, Personality, Immigration (US), Tarot, Hot Couture, Body Care, Matrimonial Laws, Sexual Health, Life, etc, Man vs Woman, Fitness.