Lessons From The KS Part 10
Is She Your Kind Of Woman?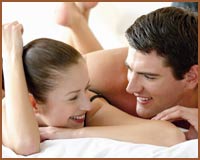 It's been high time for you to settle down since... ages. Okay - so you're finding it hard to decide who is the 'one' woman you want to spend your life with? Try running through what the Kama Sutra has to say on choosing a wife - it might help...

You know how your mother kept harping on allowing her or your so-and-so aunty to find you a nice girl? It seems that the Kama Sutra would give her a thumbs up (try telling her that!), simply because such an exercise would find you a girl you truly merit.


Is mom's choice the best?

Apparently, at least going by Vatsyayana, your ideal woman should be of the same class, shouldn't have been with another man, and should have been taken according to the texts! She should also be the image of perfection (read beautiful), as well as of good character.

Her name is also a matter of concern - steer clear of girls whose name doesn't sound right, or if she's named for a constellation, river or tree, or if her name ends in a syllable beginning with 'l' or 'r'. If you need an example, my name won't do - Charu!

Evidently, you'll need your mom to narrow down your choices to such a lass, and if the catches (pun intended) sound over the top, relax - as you will supposedly then also be assured of simultaneously finding religion, power, sons, connections, the growth of your faction and (last but not the least) straightforward sexual pleasure!

How old (or young) is she?

So it's bad manners to ask a woman her age. But how else can you decide if she's the one, when the Kama Sutra proposes a minimum three year age difference between a man and woman - with the man being elder, of course!

There is even a verse dedicated to this -



"A man should woo and marry
a recommended virgin who is
four to eight years younger,
or else she is too old."


In short, forget about what they said about elder women being easier to get along with - in and out of bed!

Judge her during your courtship

Of course, if you've decided to go the whole conservative way and be introduced to suitable prospective brides, then your meetings during your courtship will also be determined by omens and bird signs. By no means are you to meet or like / dislike by mere preference as that is merely human. And that will simply not do.












Ask our Experts :
Expert Advice, Personality, Immigration (US), Tarot, Hot Couture, Body Care, Matrimonial Laws, Sexual Health, Life, etc, Man vs Woman, Fitness.

Copyright © 2023 Shaaditimes.com - A relationship and wedding portal by Shaadi.com. - All Rights Reserved.
Terms and Conditions