Girl Talk - Planning For Valentine's Day Date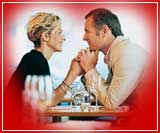 What's in and what's been, the do's and don'ts
Well, I bet we've all been there, some place, some time with some one special. Yes I mean when a traditional Valentine's Day, filled with cinnamon hearts, colorful sprays of flowers and whimsical balloons, indulges us with chocolate and wishes of champagne moments that tweak at every woman's heart and raises hopes of living happily after.
Without getting sentimental, let's check out some of the do's and don't as you prepare for your big V-date!





The astrological connection
So if hearts and minds have already shaken hands, should you also check to see if the stars notch up? If you're unmarried and this Valentine's Day is to be celebrated with that someone special, astrology beckons.



Firstly, if you have already found 'the man' in your life, should you get really bother about what the stars foretell about your love life?
"No," opines tarot card expert, Nadi Keswani, an elegant Mumbai housewife who is into tarot readings. Keswani, who has been living in Mumbai for over two decades, originally hails from Iran where tarot readings are popular. According to some historical accounts, tarot readings were first introduced in ancient Egypt, through the migration of Gypsies from other parts of Europe. "It speaks of the subconscious element of the mind at that particular time of your life. This Valentine's day you may lose your heart to him, but don't let your mind be swayed by what ifs," she suggests.
Says Keswani, "Remember tarot reading or any type of astrology is just a form of guidance. And unless you can detach yourself from the opinion of your astrologer or tarot card reader it might be a good idea to defer looking into the cards until a later time."

Keswani, who believes the spirit of vibrations have allowed her to give accurate tarot reading, admits her calling is no longer strong enough and thus she has taken a short sabbatical from conducting readings. She adds, "Once an idea is introduced it is hard for a person not to get affected by it. If you both like each other leave everything to God and the universe," she advises. "Plus, you must feel this is the only life you have and live it to the fullest."



What is your perfect date for Valentine's Day?
Danny, a dance instructor, from the tweenie something generation has yet to find his Valentine. "When I do I would probably spend the whole day with her," he says. "I would start the day with flowers, and then a cosy lunch followed by a movie, a romantic dinner and a night out at the disco." Just returned from the U.K. and Germany, Danny observes, "Valentine's is really a huge festival in Europe and all the restaurants and clubs are full on this day."



His brother 19 year-old generation nexter DJ Bharat disagrees. Bharat, who coincidentally does have a friend, who happens to be a girl, says, "I would like to spend the night at the disco listening to music." What does he plan to give his friend for Valentine's Day, perhaps flowers or chocolates? "No I don't believe in gifts," he replies a matter-of-factly.




Twenty-something Heenee Kaushik of Bollywood films Censor and Love at Times Square fame feels, "Valentine's is the time be with the person I love." The best gift she would receive on this day?
"His true selfless love, what else! There is so much materialism in the world, but I am all for love." The perfect date? " To meet as the day breaks starting at dawn and then going shopping and returning to make and share the breakfast we made together. It would be quality time spent just with each other, alone."
Rohini Bhatia-Singh
Titan Raga Watch for Women
Encore Ladies Handbag
Encore Ladies Handbag
Rs.4,200 ($87.25)
Rs.3,250 ($67.51)
Rs.3,450 ($71.67)











Ask our Experts :
Expert Advice, Personality, Immigration (US), Tarot, Hot Couture, Body Care, Matrimonial Laws, Sexual Health, Life, etc, Man vs Woman, Fitness.