The Perfect 10 For A Good Marriage IX
Patience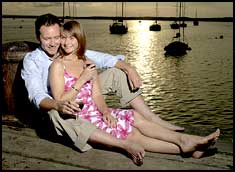 A Virtue That Helps You Stay Married

Getting married is easy, staying married is a chore - would you agree? We associate marriages with many barrels of fun and excitement, but once the honeymoon is over... well - that's another story! Actually, that's when you need all the patience you can summon.

As I was saying, the end of your honeymoon is when your eyes begin to roll - in horror, in astonishment, and sometimes, even in dismay. Truly - that is when the challenge that is 'marriage' starts!

Why?

Practically, that is when you realize that your partner isn't the perfect bride or groom you had made her or him out to be. Your partners little quirks don't show up as long as you're dining in fine style on your second date!


But post-honeymoon, it's all about "Rahul always forgets to hang up his sopping bath towel," "Seema is a perennial slow coach when it comes to dressing for a party," - these (and other) habits become known only when you live intimately with your partner.

If Rahul and Seema want to make their marriage work, they have to look beyond these little things, however annoying. They have to adopt innovative techniques to make their marriage a success. The truth is that you can't sit back and expect your marriage to run to perfection on autopilot!

Learn To Keep Quiet To Keep The Peace!

Marriage is a bond that lasts a lifetime, only if you don't treat it as an opportunity to give vent to all your complaints.

Best-selling author Stormie Omartian and her husband, Michael, have been married 32 years!

Stormie shares her own take on what patience can do for your marriage - "Through my own marriage, I've discovered that patience means biting my tongue when I feel like wagging it. It means learning to 'shut up and pray' when I'd rather 'open up and vent.' For many years I thought that telling my husband my every thought - as I was thinking it - was 'constructive communication.' (Isn't that what a good marriage needs?) But it was destructive instead, because my husband wasn't ready to hear all that. It actually pushed us further apart."

Prayer - you may well wonder what that has to do with patience? As it happens - everything, as long as you perceive prayer to be a means to increase your power of endurance.













Ask our Experts :
Expert Advice, Personality, Immigration (US), Tarot, Hot Couture, Body Care, Matrimonial Laws, Sexual Health, Life, etc, Man vs Woman, Fitness.

Copyright © 2020 Shaaditimes.com - A relationship and wedding portal by Shaadi.com. - All Rights Reserved.
Terms and Conditions