Lessons From The KS Part 12: Parting Ways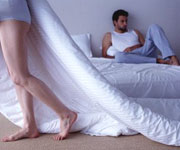 Sometimes, despite giving it your best shot, a relationship just doesn't work out. Then what should your next step be?

Evidently, you should part ways - especially if staying together could be damaging to your psyche or self-esteem. But going your separate ways is not always so easy.

After all, moving on is a process that is much easier to follow through from the sidelines, not from the thick of things. So before you bid your partner adieu, the Kama Sutra proposes that you behave in a fashion that takes your relationship to the brink of despair, by building up a scenario that suggests things are over.



The following behaviour will undoubtedly signal you're not in the mood:

Sleep - when he's in the mood to make love!
Feign boredom when he's in the mood to chat about his latest passion.
Change the conversation to subjects he knows nothing about.
Belittle his ideas and opinions on subjects he claims to be a pro in.
Pick squabbles about little things.
Praise his colleagues, or anyone of the opposite sex he doesn't particularly like!
Remain motionless, or limp, when he embraces you.
Talk about his bad habits in front of his friends.
Show your displeasure for his methods when he makes love to you.
Display an interest in making love when he is too tired.
Spend more time with your friends.
Ask him for something that he can't give you.
Have an affair.

Be cruel to be kind

If these methods seem mean, remember that it isn't easy for anyone to switch off a good thing. Instead, if the relationship is already a pain, or something you do not enjoy, your split comes almost as a welcome relief.

In Vatsyayana's word, "At the end, the release happens of itself."

Besides, if you don't need to carry these suggestions to the extreme, after a point, you can broach the subject of a separation with your partner and take things from there.

Have you evolved in separate ways?

You could actually point out that as you have evolved in different ways since you got together, it may be better for you to take a break to see how you fare without each other.

It may then be easier to remain cordial with each other, which is a mature approach to parting ways. After all, remember that not so long ago, you meant the world to each other. So even if you don't desire to be with his or her evolved personality, you should grant each other that much respect.

Life is long and as time goes by, unless your dislike for your partner stems from his or her disrespect towards you, you will realize that he or she was alright in his or her own way, even if you were no longer meant to be together.

Of course, do consider that the Kama Sutra describes these methods as applicable to couples going around, not married partners who should make more effort to preserve their twosome.

In our next instalment, we take a look at ways to test the feelings of a woman - how can you gauge if she is ready and willing to take your relation forward?

Be sure to subscribe to the Shaaditimes newsletter to get your issue.

Also Read
Lessons From The KS - Kissing Part 1
Lessons From The KS - Kissing Part 2
Lessons From The KS - Selecting Your Man
Lessons From The KS - Embracing
Lessons From The KS - An Ideal Wife
Lessons From The KS - A Bond That Lasts A Lifetime
Lessons From The KS - Men - That Women Love (Part I)
Lessons From The KS - Men - That Women Love (Part II)
Lessons From The KS - The Run Up To Sex
Lessons From The KS - Give Him What He Wants
Lessons From The KS - Is She Your Kind Of Woman?
Lessons From The KS - Is It Over?

Read More
Does Self-Pleasure Have Place In A Relationship?
5 Recipes To Take Into Bed With You


Charu Bahri
Mcdonald's Gift Voucher
Wooden Jewellery Box With Tile
Encore Ladies Handbag
Rs.925 ($19.21)
Rs.500 ($10.39)
Rs.749 ($15.56)
Rs.3,450 ($71.67)











Ask our Experts :
Expert Advice, Personality, Immigration (US), Tarot, Hot Couture, Body Care, Matrimonial Laws, Sexual Health, Life, etc, Man vs Woman, Fitness.