Lessons From The KS - Kissing Part 2
Kiss, and build up the fervour of love!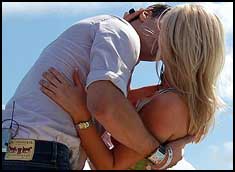 If Dire Straits are anything to go by, 'French kisses in the darkened doorways' make for a heady romance. The Kama Sutra, however, can take you a few notches higher...

You return from work late, only to find your partner asleep on the couch. Seeing the table laid for dinner, you reckon she or he must have tired from waiting, and nodded off. Suddenly, your exhaustion takes flight, and you're overcome with a desire to take your spouse in your arms and make love - not war.


Vatsyayana has a kiss for this moment. Called the 'awakening kiss', it must signal your desire. How will she react? If she feels likewise, she'll respond. But if she wants to feel your mood, she may pretend to be asleep for a while longer.

What then? You could play with her, using your kisses to stir her passion, much as the Kama Sutra suggests 'kissing' is an art that stirs emotions, but that is progressively used as the passion mounts.

So while it lists the forehead, hair, cheeks, eyes, chest, breasts, lips, mouth, armpits and genital region (in no particular order) as places you can kiss, it also says that: "Kisses may be applied moderately, with pressure, with curved lips, or gently, on other parts of the body, each according to the particular place."

As desire takes root, women especially lose regard for their body - meaning that they become more carefree in love, and open to experiment.

That's when you can enjoy 'pressing' kisses - when your lips are pressed hard together, sometimes also with the tip of your tongue pressed into service (pun intended), called licking-and-pressing or lip-drinking.

Vatsyayana also describes lovers' kissing games, such as grasping your partners' lower lip with the cup formed by both lips, or engaging in a 'battle of tongues'. But he always cautions against hurting your partner - such as with your teeth - and also suggests that these fierce methods only suit two people whose sexual energy is fierce.

So kiss gently, know your partner's nature, likes and dislikes, and then proceed. This according to the Guru of Love is the secret of stirring up lasting passion - and isn't that exactly what you want your love life to be?

If all this seems light years away, as you've yet to make the first move - meaning you're still stuck making eyes at the pretty young thing in the park - Vatsyayana also speaks of suggestive kissing actions made on the reflection of the woman on the water, or on a mirror (follow her into a clothes store!) to demonstrate your feelings. Or if you're out on a date, in a quiet restaurant or watching a concert, lightly pick up her hand and kiss her fingers, one by one. As they say, infuse love one-step at a time.

In these times of SMS, Vatsyayana would have probably suggested a series of different types of SMS kisses. Since we missed out on those, perhaps it's time for you to innovate! Go for it and suggest SMS kisses for all our readers.

Be sure to subscribe to the Shaaditimes newsletter to get your issue.

Also Read
Lessons From The KS - Kissing Part 1
Lessons From The KS - Selecting Your Man
Lessons From The KS - Embracing
Lessons From The KS - An Ideal Wife
Lessons From The KS - A Bond That Lasts A Lifetime
Lessons From The KS - Men - That Women Love (Part I)
Lessons From The KS - Men - That Women Love (Part II)
Lessons From The KS - The Run Up To Sex
Lessons From The KS - Give Him What He Wants
Lessons From The KS - Is She Your Kind Of Woman?
Lessons From The KS -Is It Over?

Read More
Does Self-Pleasure Have Place In A Relationship?
5 Recipes To Take Into Bed With You

Charu Bahri
Encore Ladies Handbag
Fastrack Watch For Men
Day Wear Shoulder Bag for Women
Rs.3,450 ($71.67)
Rs.1,095 ($22.75)
Rs.3,850 ($79.98)











Ask our Experts :
Expert Advice, Personality, Immigration (US), Tarot, Hot Couture, Body Care, Matrimonial Laws, Sexual Health, Life, etc, Man vs Woman, Fitness.