Lessons From The KS Part 11: Is It Over?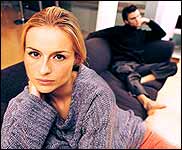 You've been together since 'oh so long,' but now something inside tells you it's over. Yet - another part of you isn't sure. So how can you be certain that his passion is on the wane? Turn to the Kama Sutra for help!

Something doesn't feel right. Is it the look he gives you - it's not the same as when you were both in the throes of love. Or maybe he simply doesn't look at you any more? Well - the latter option would make knowing whether he has moved on - at least in mind, who knows about his body - very easy.



Read the signs

You need to read the writing on the wall, so to speak, by recognizing little signs that indicate his passion is cooling. Run through this list to see if you can identify with any of these situations elucidated by Vatsyayana.


Has your man become absent-minded - not in a loving way, but as though his mind is elsewhere? So he ends up giving you too much to spend, or too little, yet hasn't a clue of what he is doing.
Has he made friends with Mrs. M, your next-door neighbour who kicks up a fuss if your maid servant doesn't sweep what she has exactly demarcated as 'your' part of the stairwell everyday (or some other petty reason)? The only words you have to describe that move of his are that he is 'fraternizing with your enemy' - how could he?
You're at his office party and his colleague walks up. But no, he doesn't start a conversation. Your partner and this guy just exchange a nod or wink or actively use their hands to convey 'something' in sign language, and that's the end of the conversation leaving you screaming (in your mind) 'Hey - what was that about?'
He tells you he is off to the gym, but your trusted friend who was at the gym at the time tells you that he was nowhere in sight. So where was he?
He's surfing the Net, or so he says, researching for his presentation next week. But when you walk up anywhere near him, he gets fidgety, looks over his shoulder, or plain logs out. What was that about? After all, his presentation was about visual merchandising, not some state secret.
He rings you from his office, telling you he'll kip down at his friends place, as they are working till very late and it's nearer. As you put down the phone, you reminisce how he'd drive home, come what may, no matter how late it was, when he was working on a project last year. What happened between then and now?

If you believe your relation may be saved, inspite of these signs indicating that your man is drifting away, get down to some serious introspection. Then get your act together and make a last ditch effort to hold onto him.

But if you must, then face the fact that sometimes it is time to say goodbye, in which case you'd do better to part as friends. Either way, we wish you all the best.

Next week, we take a look at ways to part with a man, when you have sufficient reason to believe your relationship is doomed.

Be sure to subscribe to the Shaaditimes newsletter to get your issue.

Also Read
Lessons From The KS - Kissing Part 1
Lessons From The KS - Kissing Part 2
Lessons From The KS - Selecting Your Man
Lessons From The KS - Embracing
Lessons From The KS - An Ideal Wife
Lessons From The KS - A Bond That Lasts A Lifetime
Lessons From The KS - Men - That Women Love (Part I)
Lessons From The KS - Men - That Women Love (Part II)
Lessons From The KS - The Run Up To Sex
Lessons From The KS - Give Him What He Wants
Lessons From The KS - Is She Your Kind Of Woman?

Read More
Does Self-Pleasure Have Place In A Relationship?
5 Recipes To Take Into Bed With You


Charu Bahri
Tamar Khaleeji Omani - Dates With Dryfruits
Titan Raga Watch for Women
Day Wear Shoulder Bag for Women
Rs.648 ($13.46)
Rs.4,200 ($87.25)
Rs.3,850 ($79.98)











Ask our Experts :
Expert Advice, Personality, Immigration (US), Tarot, Hot Couture, Body Care, Matrimonial Laws, Sexual Health, Life, etc, Man vs Woman, Fitness.