The Perfect 10 For A Good Marriage - Part X
Commitment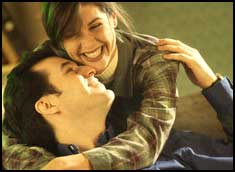 Stay Committed To Your Marriage

Is your marriage for keeps? Surprise surprise! The answer to this depends a lot on your attitude, or in other words, on how committed you are to your marriage.

Getting married isn't like buying a pair of shoes - that if you don't like, you can return in a day or two! It's also not thinking, ''If these shoes aren't comfy, I'll borrow my pals.'' You don't enter into marriage thinking about getting divorced or sleeping around.

You get married believing your marriage is for keeps, or in other words, that you're making a commitment for life. If this is sincerely what you were thinking about when you tied the knot - congratulations, at least your attitude was spot on!


Convert intention into action

But there's more to marriage than mere intention. Simply believing you're a dedicated spouse and meaning to stay so, is no guarantee for a lasting, happy marriage. You must convert your dedication into action.

How?

Your commitment is expressed through the positive steps you take to nurture your relationship - such as plan activities you can do together. It is also articulated through the steps you take to ensure you don't let a third person or activity (think cricket!) come between the two of you.

In his book The Heart of Commitment, Scott Stanley, also writes about a "met-commitment," which is another form of commitment - I'd call it a preliminary stage - that implies that you believe in yourself - what you say you'll do.

How can you tell if your commitment is alive?

If you're purposely spending your free time apart, because you can't stay together for long without going at it - hammer and tongs - beware! Sooner or later, your marriage will be the loser. Although it's nice to have personal hobbies, you must find common ground, activities that you enjoy doing together.

These tips will also help you keep your commitment alive:
Regularly share your thoughts and feelings, keep the communication lines open - don't reduce your marriage to a guessing game.
Learn to accept your spouses' problems (perhaps her parents' financial situation?) as your own. If your partner has a headache, wouldn't you sympathize? Just the same, your spouses' emotional or other issues call for your mercy, and involvement.
Don't harbour resentment. Negative thoughts and feelings sap energy from your marriage. If you're thinking, "I still haven't forgotten that you... forgot our anniversary again, or were rude to my mom or whatever" - you're not likely to feel very loving towards your partner. Over time, this creates a barrier that's difficult to beat.
In true J F Kennedy style, periodically "ask yourself what you're doing for your marriage." Don't only question what your marriage is doing for you! Face (and change) reality - if you're not doing enough, or are to blame for short-changing your marriage.











Ask our Experts :
Expert Advice, Personality, Immigration (US), Tarot, Hot Couture, Body Care, Matrimonial Laws, Sexual Health, Life, etc, Man vs Woman, Fitness.

Copyright © 2020 Shaaditimes.com - A relationship and wedding portal by Shaadi.com. - All Rights Reserved.
Terms and Conditions