Arranged Marriage Equals Success?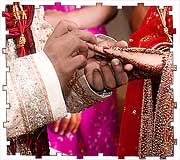 Arranged marriages tend to last longer than love marriages. But does that necessarily always make it successful?

Amit is proud to be known as a womanizer. You've hardly heard of him being in a long-term committed relationship. He's just into one-night stands, friends with benefits and short-term relationships. Yet he insists of getting into an arranged marriage.

He says, ''I am almost forty. I will get into an arranged marriage as soon as I cross 40. I am looking for someone who can take good care of the house and not a career oriented woman.'' Amit has told his close friends that he may cheat on his wife after marriage. He says, ''As long as I get into an arranged marriage I don't have to worry much. Statistics have proved that arranged marriages last longer than love marriages, so I don't expect my marriage to end in divorce if I marry a submissive girl from my caste and community. But I'll never marry any of the women I am having relationships with now. And I'll never get into a love marriage as I feel it may not last for a lifetime.''


Amit's marriage may after all turn out to be a long-lasting one. But will it be a happy and healthy relationship? Can arranged marriages be termed as successful just because they last longer?

The online Wikipedia Dictionary says, ''Many proponents of arranged marriages point to the 0% to 7% divorce rate for arranged marriages in contrast with a 55% divorce rate for the United States.'' But does every arranged marriage have the ingredients of a happy and healthy marriage?

Psychotherapist Liza Misra says, ''Arranged marriages are generally more prevalent in a section of the society where societal norms and family reputation are considered very important. Society and family may make divorce hardly an option for them. So they convince themselves that they have to stay married forever whatever the circumstances. But in love marriages, people have the choice of deciding whom they wish to get married to, which again gives them the choice to divorce if things go wrong.''

Siddharth Chatterjee, Chief Executive of Ace Management Consultants says, "Arranged marriages which are intact because of parental/social strictures cannot be considered 'successful', but if a marital relationship goes off smoothly then it can be termed as 'successful'. For a marriage to be called successful there must be love, emotional compatibility, mutual respect, tolerance and physical intimacy."

It has been sometimes seen that people stay on unhappily married even if it's an abusive marriage and the spouse having committed adultery. In a patriarchal society like India it's seen that it is generally the woman who compromises in a dysfunctional marriage like this. In love marriages people would far easily take a divorce in a case like this.

Liza Misra therefore says, "In Western nations where arranged marriages are unheard of, you may say that a long lasting marriage is successful. But in societies where arranged marriages prevail, simply the longevity of the marriage can't prove it's successful."












Ask our Experts :
Expert Advice, Personality, Immigration (US), Tarot, Hot Couture, Body Care, Matrimonial Laws, Sexual Health, Life, etc, Man vs Woman, Fitness.

Copyright © 2022 Shaaditimes.com - A relationship and wedding portal by Shaadi.com. - All Rights Reserved.
Terms and Conditions