Stop nagging
The not-so-quiet relationship killer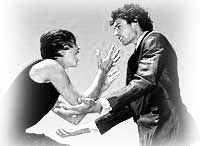 Maya was funny, well groomed, articulate and intelligent. Rohit and Maya had been married for five years. Maya thought they had an excellent relationship. They shared the same interests, the same goals in life and the same ideals. They seemed like the ideal married couple.

Then Rohit had an affair. Radhika, the woman he "fell in love with" was plain, dull and very different from Rohit. No one could understand what Rohit saw in Radhika. The truth was, he felt comfortable.

Maya and Rohit had enjoyed "playful arguments". Their conversations were peppered with sarcasm, criticism and put-downs. Maya constantly reminded Rohit of his failings, of the things he needed to get around to doing, of his defects and his faults. "All in fun", Maya used to tell her friends. But somewhere along the way, Rohit stopped finding this kind of relationship "fun". His self-esteem suffered. He felt unappreciated and unloved. He felt insecure and alienated from Maya. Rohit wasn't very good at expressing his feelings. Instead he silently smoldered.

Then Radhika came into Rohit's life. Radhika never put him down. She never told Rohit he was stupid. She never mocked him in front of his friends. Radhika reminded him of his good points, listened and encouraged. Sure, they didn't have a lot in common, but Rohit finally felt safe and admired. And they started having an affair.


Nagging. It's an easy trap in which to fall. Before you get married, make a decision not to nag each other. This is one of the reasons relationship works well. Nagging seems to come in many shapes and forms. The nagger seldom admits to what they are doing.

How often have you heard yourself say:
"I'm just reminding you about that..."
"You won't forget to..."
"I've asked you before not to just..."

How can you break the pattern? It is the responsibility of both partners. Agree together that you will break the nagging pattern. The nagger needs to approach problems differently, seeking solutions.

Talk together about how you can improve your communication and reduce the nagging pattern. Who is responsible for what in your household? What motivates you? How do you feel when things don't get done? Look for solutions. If you can stop nagging and manipulating, you'll discover a spouse who is much more responsive and interested in a loving relationship. If you can respond more quickly to your partner's needs, you'll find a partner who is able to give up the nagging habit.













Ask our Experts :
Expert Advice, Personality, Immigration (US), Tarot, Hot Couture, Body Care, Matrimonial Laws, Sexual Health, Life, etc, Man vs Woman, Fitness.

Copyright © 2019 Shaaditimes.com - A relationship and wedding portal by Shaadi.com. - All Rights Reserved.
Terms and Conditions