3 trickiest questions your woman can ask you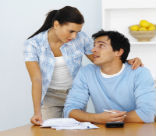 It is often said that if any man knew exactly what women want, he'd be a millionaire overnight. And since most men don't, here's some valuable information on the topic that will help you to score big with your ladylove. Let's take a look at the 3 trickiest questions that your woman can ask you along with the responses they want to hear.

The questions themselves are not really that tricky. It's the answers that most men are likely to give that cause the problems. The wrong answers will definitely get them into big trouble. To keep yourself out of trouble, here's what you need to know:


Question No. 1:
"Does this dress make me look fat?"

The only correct way to answer this question is to tell your woman, "Absolutely not darling". No taking your time to think, no hemming or hawing, and no asking her to turn around so that you can have a better look. You may be tempted to say something asinine like:
A little bit darling, but all the more for me to hold and love.
Not exactly fat, but maybe a little plump.
Not as fat as the dress you wore the other day.

Yeah, yeah. Some of these responses may be the truth. But are you looking to be crowned as the next Mahatma Gandhi or do you want the rest of your day to go smoothly? The choice is yours.

Question No. 2:
"Do you love me?"

The right answer to this one is obviously "Of course I do sweetheart". Make sure that you answer immediately because a delayed response will make her feel that if you had to think about this even a little bit, you don't really love her. Answers that will invite the mother of all 'talks' include:
I guess so....
I did marry you, didn't I?
I like you a lot.
What exactly do you mean by love?

On a more serious note, if you are finding it difficult to answer in the affirmative, perhaps it is time for that talk.

Question No. 3:
"What do you want to do today?"

In all likelihood you may be dying to tell her something to the effect of:
Watch cricket (or Formula 1, tennis, basketball etc).
Hang out with the guys.
Sleep.
Be alone.

But, regardless of what you actually want, the best way to answer this would be, "I want to spend the entire day with you and show you how much happiness, love and warmth you bring into my life." Sounds corny? Perhaps. But it's exactly what we hope to hear - and never do!

No, I'm not trying to say that all women are insecure about their weight, looks, or their relationships; neither am I trying to suggest that women cannot handle the truth and that the only way to please them is by lying.

But, in my experience, answering as I have shown you above will get you a lot more brownie points with your lady than perhaps the truth. All of the questions above are really asked when women are looking to their spouses for some reaffirmation of how much they care. All they want is a quick sign that everything is great in their relationship. So the 'harsh' truth is something you can keep to yourself for another day.

And chances are, you may not have to lie at all and every appropriate response is actually what you want to tell your woman. In that case, oh how I envy you - Do you have a twin brother?

Ruchi Agarwal
Lanvin for Men
Encore Ladies Handbag
Cuban Crunch
Rs.1,795 ($37.29)
Rs.1,705 ($35.42)
Rs.3,250 ($67.51)
Rs.899 ($18.67)











Ask our Experts :
Expert Advice, Personality, Immigration (US), Tarot, Hot Couture, Body Care, Matrimonial Laws, Sexual Health, Life, etc, Man vs Woman, Fitness.