Why is there a craze for NRI grooms?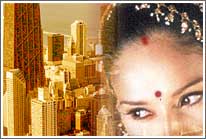 Brinda lived in the U.K. from age three to twelve. In her British school she was known as Brenda. She came back to India two weeks before her thirteenth birthday. She always regretted that she had to spend her teens 'studying and slogging' instead of chilling out as teenagers which are usually depicted doing in Hollywood movies. Her father had no plans to leave India again but Brinda's fascination for the West never blurred, so much so, that she was determined to marry none other than an NRI groom.


Brinda got married to a software engineer in California in the last year of college. Brinda is now happily married for seven years and residing in San Francisco. She is once again known as Brenda in the U.S. Her children speak only English at home. On their trips to India, Brinda and her husband go on comparing on how better life is in the U.S. when compared to India. Many of Brinda's relatives residing in India are envious of her being an NRI and ask her to sponsor her cousins to study abroad.




Con artist Jaswinder Gill made 1 million pounds from 2000 to 2004 in a scam in which British Asian girls were lured into sham marriages in the pretext of getting theatrical jobs. Later they realized that they were tricked into marriages with guys posing as grooms ready to give modelling assignments. In reality they married a total stranger - Indian grooms who wanted to come to Britain. Jaswinder arranged for ostentatious and glitzy wedding decors. Before long these girls realized they had been duped and forced into matrimony by goons who threatened rape and violence. These girls were in their twenties, mostly living alone, struggling with monetary problems.

(Source: The Indian Express)

Roshni also was also fixated on marrying an NRI but she wasn't as lucky. She had just seen the photograph of her prospective husband and communicated for a month over phone before the marriage was fixed. She immediately ditched her boyfriend and started daydreaming of a cosy life in Florida. On the day of the wedding the groom lost consciousness. It was discovered that the groom had a chronic ailment which could even be life threatening. The groom had purposely chosen not to disclose this. The wedding was immediately cancelled. It was a piteous sight to see young Roshni, barely out of her teens, crying hysterically still dressed in wedding attire.


Why do Indian girls crave for NRI grooms? Aren't there eligible bachelors in India too? Why do they equate life in the West with happiness?

Says Dr.Anju Kapoor, Clinical Psychologist and Lecturer in Psychology in R.D.National College & W.A.Science College, "The lure for materialistic benefits, better lifestyle in the West tempts girls to marry NRI grooms. Material comforts can be obtained fairly easily there. They feel it is fun to get away from the humdrum, stereotypes and cultural stringencies of India to a more open and liberal society. Indian grooms believe that the marriage will be more lasting than marrying a foreigner as Indian wives can adjust better.



Ravinder Kaur was married to an Indian groom residing in Canada in 1995. She had two sons with her husband when he would come over to spend his vacations in India. Finally he told his wife that he'd be flying her with the children to Canada. At the New Delhi airport Ravinder's husband just fled with his sons leaving his wife in the lobby.

In 2000 Ravinder's husband, returned to India and handed his wife divorce papers. Her husband has now remarried and doesn't allow Ravinder to have any interaction with her sons. Ravinder now realizes that she was just her ex-husband's 'holiday wife'.

(Source: The Asia Pacific Post)

They fear that a foreign wife may file for a divorce more readily if she feels that the marriage isn't working out. There's risk in marrying an NRI groom in haste. There have been instances in which fraudulent NRI grooms have married Indian girls just to please their parents and have actually been taken as domestics. Maybe they have had previous affairs, which they haven't disclosed. The U.S. tops the list of all countries when it comes to marrying a NRI. Canada and the U.K are lucrative destinations too. Australia and New Zealand are coming up too because they are sparsely populated and are therefore inviting educated Asians."


The foreign hand


Says 23 year old Jesmita Akoigam, "As a teenager my dream was to marry an NRI.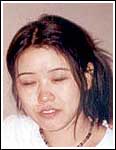 I preferred the U.S, U.K, Canada and Australia as they are first world countries and fair people look good. I wasn't interested in immigrating to any Asian country as I felt it would be similar to India. I completely wanted to avoid Africa as I could only associate it with naked people and underdevelopment. My knowledge regarding the West came from Hollywood movies and websites. When I was 20 I fell in love with a guy who became my boyfriend. He is not an NRI and may stay all his life in India but nevertheless I want to get married to him someday.
Now I understand that wanting to marry an NRI was an immature thought which I've completely grown out of.
"











Ask our Experts :
Expert Advice, Personality, Immigration (US), Tarot, Hot Couture, Body Care, Matrimonial Laws, Sexual Health, Life, etc, Man vs Woman, Fitness.

Copyright © 2018 Shaaditimes.com - A relationship and wedding portal by Shaadi.com. - All Rights Reserved.
Terms and Conditions