Doomed By The Stars?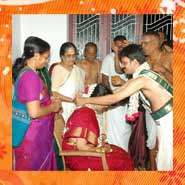 Are Marriages Between Mangliks And Non-mangliks Necessarily Headed For Doom?

When Rupali and Ankit after a courtship of five years decided to get married, Ankit's parents vehemently opposed to it. Their family astrologer after studying Rupali's horoscope said, ''Rupali has Mars in the 8th house which is second from the 7th house and thus represents death of the spouse, accidents, burns, surgeries and a sudden end. Rupali may also be very hyperactive, aggressive and suffer from broken relationships.'' In brief, according to the astrologer Rupali was manglik (under the malefic influence of the fiery planet Mars).


Rupali and Ankit just went ahead and married against Ankit's parents' wishes. Rupali just knew that Ankit was the right guy for her. She turned a deaf ear to those who said that she would only be compatible with a manglik guy.

They have been happily married for ten years and have two lovely children. Never ever has a serious accident befallen either of them. Rupali is a very calm and composed person, totally opposite of the violent natured woman the astrologer had confidently predicted. Rupali and Ankit truly trust and love one another.

The astrological interpretation of the Mangal Dosha :
According to the online Wikipedia Dictionary, "Mangal Dosha is an astrological condition that occurs if Mars is in the 1st, 4th, 7th, 8th, or 12th house of the Vedic astrology lunar chart. A person born in the presence of this condition is termed a manglik."

The Mangal Dosha is thought to be bringing doom to a marriage. It is said to cause various marital problems ranging from quarrels to separation / divorce or even the untimely death of a spouse.

How logical is this theory?
Purohit Saligram Shastri of the Arya Samaj of Vasai says, "Arya Samajists believe in astronomy but not astrology. Horoscope matching is not necessary in our marriages. We rather see if the prospective bride and groom are emotionally compatible. When Muslims and Christians marry they don't check out their manglik status before that. Why should the mangal dosha just affect Hindus?" Reformist Hindu movements like the Arya Samaj have weeded out mal-practices like the manglik bias from Hinduism.

According to psychologist Prasenjit Kamble, "The manglik concept is actually not a part of the Vedic Astrology as it wasn't introduced in the Vedic Era. After the Vedic Era when the spiritualistic aspect of Hinduism was lost and the ritualistic part gained prominence, the superiority of the priest class started. In the Vedic Era women enjoyed equal rights with men. Later the priest class wanted to suppress women. Putting a manglik label on a woman was just a ploy to derogate her. Mars is supposed to be a protector planet which happens to be the logic behind the mangal sutra which married women wear as a mark of protection. So how can a protective planet go against marriage?"

Why is the manglik bias greater for women?
Prasenjit answers, "In a male-dominated society if a manglik girl's husband dies she is regarded as 'a curse'. But if a manglik man's wife dies, she is considered lucky to have died as a married woman."

We have heard of manglik women being asked to perform derogatory rituals like a kumbh vivaha in which she 'marries' a banana or peepal tree or an icon of Vishnu to 'nullify her manglik status'. Prasenjit explains why women often give in to this, "Indian women are conditioned to believe that marriage is a social necessity. If a woman remains unmarried it is wrongly assumed that she must be lacking something. It is a misconception that a woman who is not chosen by God remains single. Therefore most Indian women agree willingly to such practices to get married."

Just like women should say 'no' to dowry, they should refuse to give into harassment for being a manglik. Moreover these rituals to negate one's manglik status are just ploys by astrologers to mint money. These rituals are after all very expensive. They have no spiritualistic significance whatsoever.

If at all anyone is 'diagnosed' a manglik by an astrologer he / she should actually be proud of it. Mars is after all the planet which astrologically gives us energy, independence, will and self-confidence to carry out our pursuits. How insipid we would have been if we had no interest, passion or motivation to accomplish our dreams. So perhaps its time we started considering the 'mangal dosha ' a blessing rather than a curse!


Pallavi Bhattacharya
Chocolate Fudge Walnut Brownie
Cappuccino
Day Wear Shoulder Bag for Women
Rs.701 ($14.56)
Rs.899 ($18.67)
Rs.3,850 ($79.98)











Ask our Experts :
Expert Advice, Personality, Immigration (US), Tarot, Hot Couture, Body Care, Matrimonial Laws, Sexual Health, Life, etc, Man vs Woman, Fitness.