Is cyber sex cheating or a harmless fantasy?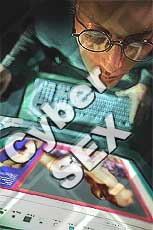 "When will you be coming home, tonight?" asks Shyam's harried wife. "Honey, I'm stuck in a very important meeting, I'll come home around midnight. I'll make it up to you and the kids on Sunday by taking you on a nice family picnic."
Convinced that Shyam is working late, his wife hangs up. Shyam is actually in a cyber cafe involved in sado-masochistic sex with his virtual cyber partner living in Thailand. Shyam is actually a very affectionate father and gets along very well with his wife. Shyam and his wife make love quite often but his wife is a bit inhibited in bed. Shyam has a fascination for oriental women and wishes for what he terms 'a bolder' sex-life. Since he can't get what he wants in real life, he partially satisfies himself with online S&M sex.



No sex please!
Twenty-year-old Manish has a very doting girlfriend. However she doesn't believe in pre-marital sex though their relationship does have a certain amount of physical intimacy. Frustrated with his girlfriend's refusal to have sex Manish started frequenting pornographic sites. He later started visiting chat rooms and started indulging in cyber sex with women of various ages and nationalities.

Thirty-two-year old Aneesha's husband often has to go on official tours. Even when he comes home he rarely has sex with his wife. Aneesha is gradually getting emotionally attached to her cyber-partner, a 35-year-old divorced man from Delhi with whom she engages in cyber-sex in text format, voice messages and web cam. Aneesha however does not want her cyber-lover to come over to her home town Bangalore to meet her, as she does not want to risk her marriage especially for the sake of her children.

Are they cheating?
Are Shyam, Manish and Aneesha cheating on their partners? Do they have a guilty conscience? Or do they self-justify what they are doing? What explanation will they give to their partners if they find out that they are indulging in cyber-sex? All these questions lead to one crucial question: Is cyber sex, which may be defined as 'sexual activity or arousal through communication by computer' be termed as cheating?

The flip side


Film artiste

Bobby Darling

however has a different point of view.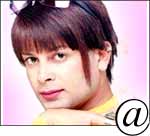 When asked if cyber sex is cheating or just a harmless fantasy, he candidly answers, "Cyber sex may not necessarily be harmful. I regularly go to a site where both straight and gay people engage in cyber sex. I am simply trying to relocate abroad and searching for a partner from that site.

In my opinion a married person who engages in online cyber sex cannot be termed as an infidel as it is after all virtual sex.

A married person can get attracted to someone he meets at a party, but that can't be termed as betrayal, can it? However if a married person has real sex with someone outside marriage it is definitely betrayal."


Sam, who sometimes indulges in cyber sex, feels that it is not cheating on the partner because, "My girlfriend has no problems with me visiting pornographic sites, so why should she feel betrayed if I tell her about my cyber sex experiences?" Sam's comment is refuted by Darla who says, "Visiting porn sites and watching x-rated movies is different from having cyber sex as you are actually communicating with someone who is sexually arousing for you." John contradicts Darla by pointing out, "You actually don't know who is on the other end in cyber sex unless you meet the person. A man may pretend to be a woman.













Ask our Experts :
Expert Advice, Personality, Immigration (US), Tarot, Hot Couture, Body Care, Matrimonial Laws, Sexual Health, Life, etc, Man vs Woman, Fitness.

Copyright © 2020 Shaaditimes.com - A relationship and wedding portal by Shaadi.com. - All Rights Reserved.
Terms and Conditions