My Spouse Is Not Straight!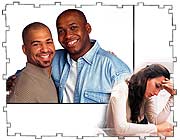 Alma thought that she was in a happy marriage till she saw her husband Ennis passionately kissing his friend Jack. She soon realized that her husband's 'fishing trips' with Jack are just romantic trips of clandestine gay bonding. She divorced her husband. This story is from the Oscar winning film Brokeback Mountain.

While watching Brokeback Mountain few of us may have seriously thought that we could have been in Alma's position too. Seriously, how would your marriage and life change if you discovered that your partner wasn't straight?

Psychiatrist, Therapist and Counsellor, Dr.Shefali Batra answers, "Essentially such a discovery affects the individual at a very close and personal emotional level and would certainly be a shock because it would amount to betrayal. There would be a sense of bewilderment and questions like 'Why, When, How, Why me?' and answers to these are rarely found."


"However, these are similar to the feeling one would have on realising that the spouse has any affair (even heterosexual). There is always a strong element of anger and denial saying that this can't just be true; and putting up a fight in some cases trying to correct the orientation. It essentially would lead to a split in most cases. However after a brief period of disillusionment the acceptance eventually comes and the partners move on with their own lives."

In Brokeback Mountain, Ennis's gay partner Jack suggests that they live together on a small ranch. However Ennis is haunted by the traumatic childhood memory of the brutal torture and murder of a suspected homosexual in his hometown. He doesn't want to meet with a similar fate. In India where homosexuality is illegal and also a social taboo, many homosexuals unfortunately get married to straight people instead of spending their life with a homosexual partner. The result may be a very unhappy marriage.

Parents who are ill-informed about homosexuality and often mistake it to be an illness, try to convince their child that marriage will 'cure' them of homosexuality. They couldn't be further from the truth. Can a heterosexual be transformed into a homosexual? So how can we expect a homosexual to change his sexuality?

Sadly it seems that the time when homosexual marriages may be legalised in India is still far away. Sanjay Lulla, Accounts Professional says, "Let there be an era when an Indian mother says to another that there a suitable boy in your house for my son." Till Indian society gets that liberal, homosexuals may be getting into pressurized marriages with straight people.

Should you remain married to a homosexual? Inez Rufus, Consultant Soft skills Facilitator says, "I know of a couple that faced this situation. The wife's initial reactions were that of shock and a feeling of betrayal. The wife however chose to stay with her husband. Her reasons remain undisclosed to her friends. They now have two wonderful daughters who I think fill the vacuum in the wife's life. This may not work for everyone but maybe works for her."

Ultimately it is up to both the spouses to decide whether or not to stay married. If either or both of you feel that you'll be unhappy in a marriage living on like this, it makes little sense to continue being married fearing that a divorce will make your parents unhappy and that society will stigmatize you.

Should you marry a bisexual? A bisexual is after all attracted to both the genders. Homophobic pre-conceived notions may however dissuade many from dating a bisexual.

Dr. Shefali Batra advises, "People are free to date whosoever they wish to date! And talking about marriage, several marriages between heterosexual individuals don't work out today! What matters, is not the orientation but the loyalty and trust between two individuals. So a question like that may not essentially have an answer because the relationship will work if the corresponding partner chooses to be loyal to his/her spouse."

Some may be afraid that a bisexual person will have a wider range of choice when it comes to infidelity as they can after all fall for a person of either gender. But if your spouse is truly committed to you he / she won't stray irrespective of his sexual orientation. Indeed a homosexual or bisexual can love, honour, cherish and protect his / her spouse with the same integrity as a straight person can.

So - Would you stay married to a gay partner?


Pallavi Bhattacharya
Wooden Jewellery Box With Tile
Fastrack Watch For Men
Encore Ladies Handbag
Rs.925 ($19.21)
Rs.749 ($15.56)
Rs.1,095 ($22.75)
Rs.3,250 ($67.51)











Ask our Experts :
Expert Advice, Personality, Immigration (US), Tarot, Hot Couture, Body Care, Matrimonial Laws, Sexual Health, Life, etc, Man vs Woman, Fitness.