Do you need to trail your partner-to-be?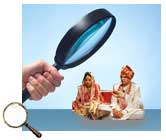 "Can you please suggest a good private detective?"

A few days back, a lady called up with this not so common request.

Now why would a housewife from a prestigious, educated and financially well - off family need a private detective?

The lady explained, "We are looking for a suitable match for my son."

"Good. But then you need to contact a marriage bureau, not a detective agency," I said.


"We have already seen a few girls. And out of them two look suitable for my son."
"So choose one of them now."
"Before taking the final decision, we want to gather all the required information. Only then we can decide."
"So have some more meetings. Ask whatever you think is necessary. Put all your doubts to rest and then let the boy decide."

"Oh, we have asked the girl and her family members whatever was possible to ask. Even did the background checks. So far we have not come across anything undesirable," the lady replied.

"Then what's the problem?"

"But it is yet not possible to know the whole truth by merely asking them," the woman expressed her doubts. "Suppose she is one of those girls who is out late night, smoking and drinking in pubs with friends..."

"Hmmm"

"We can't have such a girl as our daughter-in-law."

"Hmmm"

"I have heard that there are some agencies who facilitate pre-marital investigation. Through them we can find out everything before marriage and don't have to worry about any problems later." The lady rested her case.

Unfortunately, I didn't have any satisfactory answer. It's true that there are so called private detective agencies who offer such services. In the old days, most of the people who called them were already married but suspected the spouse of having extra - marital affairs. The detective would follow the target and collect enough evidence including photographs taken on the sly, to prove the man or woman's infidelity to the spouse. They came handy in the divorce court.

Later on the service progressed from post marital to pre marital investigation. People who didn't want to take any chances began hiring detectives to dig up every information possible about the prospective new family member much before setting up the date of the wedding.

Alright. Nothing new in this. Of course, the practice is not very common. Even today hardly anyone contacts a detective agency in the pre-matrimonial matter. But there are a few who do and the woman who called me was one of those very few.

Whether the decision to hire a detective to follow the prospective son-in-law or daughter-in-law is right or wrong, good or bad, one can't comment. One didn't offer any opinion to the caller even though she asked. But the thing I did wonder about and couldn't help asking was - Whatever queries, doubts you have regarding the person, why can't you ask her or him directly? And then ask the family too?

Those days are long gone when young folks getting married hardly knew anything about each other. Elders would decide everything and the couple remained in suspense till the last moment. Now you can ask anything. "Do you smoke or drink?" Now such questions are not restricted to girls only. The man too can ask the same without any hesitation in India now. No one is supposed to take offence with such queries. Ask all the questions you can think of and then make discreet inquiries outside with the help of relatives and friends. It is expected. Family background, age, education, likes and dislikes, economic condition, medical history... what more do you want to know?













Ask our Experts :
Expert Advice, Personality, Immigration (US), Tarot, Hot Couture, Body Care, Matrimonial Laws, Sexual Health, Life, etc, Man vs Woman, Fitness.

Copyright © 2023 Shaaditimes.com - A relationship and wedding portal by Shaadi.com. - All Rights Reserved.
Terms and Conditions