Do Men Use The Headache Excuse Too?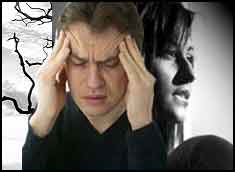 ''Not tonight darling, I have a headache'' seems to be the #1 excuse women give their men when it comes to not wanting sex. Most men would agree that this excuse is typical only of women because men are always ready to have sex. Right?

Well... you couldn't be more wrong. Men say no to sex too. Read on to find out under what circumstances.


It is commonly accepted that a man's self confidence is directly affected by his sexual prowess and appetite. In fact, for most men the idea that another man may not want sex is practically unbelievable. We asked over a hundred men why any man would refuse sex with his partner and 80% of them responded in the exact same way, which is:

"He's getting his action someplace else"

According to them, the only reason for a man to give the headache excuse to his lover is because he is already having sex with someone else.

Other miscellaneous reasons included (they did have to think really hard for this!)
He doesn't find his partner desirable
He wants to control his mate by denying her intimacy
He's gay!

As you can see, all these answers stem from the disbelief that any red-blooded male would actually ever say no to sex.

And considering that men rarely ever refuse to have sex, there just might be some truth to these answers. So ladies, if your man constantly makes excuses not to get intimate with you, there are chances that the relationship is headed towards a break-up due to another woman in his life (or possibly another man!)

However, aside from the obvious reasons provided by our polled group, there are various other legitimate reasons for a man to use the headache excuse. These are:
Hormonal imbalance: Men too can have hormonal imbalances resulting in low levels of testosterone or high prolactin in their bodies, which can impact their sex drive negatively.
Use of medicines: Some kinds of blood pressure medicines and various antidepressants are known to cause sexual dysfunction. If this side effect does occur, there is no way your man will be up for sex.
Stress: Stress is an integral part of today's life. Work pressure, family issues, monetary difficulties and various other challenges can add to a man's stress considerably. Emotional stress can manifest itself as bodily stress, thus making it physically impossible for men to have sex. And it's not like they can fake it like women, right? So no is the only way to go.

Therefore, before you make yourself hysterical thinking of the other woman in your man's life, do make sure that none of the above reasons are causing him to use the headache excuse. After all, it could be something really simple like being tired or sleepy. Extremely unlikely we know, but possible.

Also read, "Has Your Spouse Got THE Headache?"


Ruchi Agarwal
Photo Pillowcover: Pink
Asmi Diamond Pendant
Fastrack Watch For Men
Rs.525 ($10.91)
Rs.475 ($9.87)
Rs.8,670 ($180.10)
Rs.1,095 ($22.75)











Ask our Experts :
Expert Advice, Personality, Immigration (US), Tarot, Hot Couture, Body Care, Matrimonial Laws, Sexual Health, Life, etc, Man vs Woman, Fitness.