7 Signs You're Being Creepily Clingy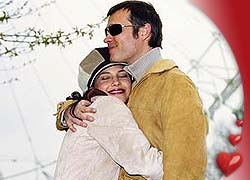 Wanting to spend every waking minute with your girlfriend or boyfriend is one thing, but practically dogging your partner's steps so that they do not have even one second of private time is another! Yes, receiving attention from one's lover is something that we all want, but there IS such a thing as too much attention!

So, are you giving your partner the space they need or are you being the clingy lover?


Check if you are exhibiting any of these following signs that show that you are in fact being very needy. And since no man, or woman for that matter, wants to be with a desperate and needy partner, you need to alter your actions immediately!


To call or not to call: You've been on a wonderful date and your man tells you he's going to call you the next morning. Morning arrives but the call doesn't. Calling him will show him that you're needy so resist the urge to pick up the phone. If the man had as good a time as you did, he'll call you. And if he doesn't, well… he doesn't deserve you!
Over SMSing: Some men have a tendency to start messaging women who they have just started going out with at least 10-12 times a day. Now if that's not needy behaviour I don't know what is! Checking in a couple of times a day to see what's going on is acceptable, but any more than that are you're being clingy.
Needing acceptance: Most men come across as very needy when they can't tell whether or not they are showing a good time to their women. For instance, they go out on a date and end up asking their woman whether she had a good time or not. Guys, you don't need to ask. If she did have a good time, you'll know! Confidence in a man is extremely attractive and lack of it very unappealing.
Did you just call me? This applies to men and women both. You have a missed call on your mobile phone and since you do not recognize whose number it is you automatically dial your partner to enquire whether they called you or not. Such actions send a clear signal to your partner that you are clingy, so don't fret over every missed call that you don't recognize. If it's your partner calling you, they'll call back!
Give your partner some space: If your man is out with the guys or if your woman is out with her friends, give them the time and space to enjoy their friends' company. Don't keep calling or messaging to ask whether they are done or if they are back home yet. If you do that, you'll only sound desperate and insecure and such needy behaviour will surely drive your partner away!
Make yourself UNavailable: Yes, you read that right. Making yourself available to your partner at all times is a clear sign that you're extremely needy since you are ready to drop everything at a moment's notice to be with them. If you're a man, being too available may also be seen as a sign that you have nothing better to do. So, don't break prior commitments simply because your boyfriend or girlfriend calls you to make last minute plans. If your partner sees that you are secure enough in your relationship to be able to say the occasional 'no', they will respect you that much more.
Stop being a doormat: Doing nice things for your partner, being aware of their likes and dislikes, and trying to please them is one thing - but letting them walk all over you and taking you for granted is quite another! Try to accommodate your partner whenever you can, but if they are being too pushy or too unreasonable, then the only way you're not going to seem needy is to stand up for yourself.

Your man or woman will be more attracted to you if you are confident and secure in your relationship and don't constantly need to be told or shown that you are loved. The minute you start nagging your partner or being too clingy, they'll run as fast and far as they can.


Ruchi Agarwal
Asmi Diamond Pendant
Graceful Metal Show Piece Dice Watch
Cappuccino
Rs.1,402 ($29.12)
Rs.8,670 ($180.10)
Rs.1,121 ($23.29)
Rs.899 ($18.67)











Ask our Experts :
Expert Advice, Personality, Immigration (US), Tarot, Hot Couture, Body Care, Matrimonial Laws, Sexual Health, Life, etc, Man vs Woman, Fitness.