Body Language Of Happy Couples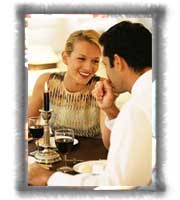 Body language is a great gauge of how a relationship is faring. An outsider can analyse your private relationship if they study a couple's gestures and movements.

You see a couple on the far end of a home renovations store, making decisions about their new home decor. They're too far away to figure out the conversation. But it's a sure shot that this is one happy couple. Why? The expression on their faces, the way they stand, the amount they touch each other and the constant eye contact they make every now and then brings you to that judgement.


BODY LANGUAGE OF HAPPY COUPLES


An emotionally connected couple will always walk side by side. One will not lead the other, or suddenly change course of their path without communicating his intentions.

You will notice that they tend to touch more often. They might hold hands, the male might lightly hold the female's lower back, or one might simply touch the other one's arm or shoulder occasionally.

Happy couples tend to look into each other's eyes every few minutes in a social gathering; but are secure enough to go about meeting other people. That said, they will not spend the whole evening doing their own thing.

The biggest judge if a couple is in sync with one another is if they are mirroring each other's actions. If they are at a restaurant, both will be on the same course. If one is still on appetizers and the other is already ordering dessert; something is amiss.

Notice how newlyweds tend to lean in towards each other and if one touches or kisses, the other one will reciprocate. Mirroring here implies even adopting each others' mannerisms.

BODY LANGUAGE FOR CONFLICT MANAGEMENT

When we fight, the non verbal communication directed towards our partners has a bigger impact than what we are actually saying. So the next time you're in a disagreement with your other half, just take a deep breath and analyse both your body languages. Are your arms crossed and is your back towards her? Then you're subconsciously sending her a message that you're already closed to this discussion and are not even trying to resolve it. Clenching your fists while saying everything is alright will only communicate that something is wrong. The non verbal cues take precedence over the verbal cues.

How we fight, our gestures and our non verbal signals can help us resolve conflict and reach the kiss and make up part sooner. Facing the other person, making eye contact, placing hands on both sides and nodding while they get to speak their mind, are all positive signals while arguing. Negative behaviours for fighting couples include moving away, leaning back, looking at the floor, frowning, making fists, folding arms, staring with disbelief and snorting.

BODY LANGUAGE OF MISMATCHED COUPLES


Dominating partners: The dominating person puts their hand on the other one's shoulder ever so often. Another clue is watching a couple go shopping. See a husband impatiently walking ahead, not wanting to stop every time his wife does? The non dominating husband would patiently stop beside her instead of striding ahead. And the one that is dominated by his wife will be willing to spend all day waiting for her to finish!

Egoistic partners: If one of the two has his head tilted upwards, chin in the air; he is full of pride. This could be his defiance to prove his individuality also. A woman has her arm draped over a man who just lets her tag along with his own hands in the pocket. He is either disinterested or is egoistically walking around to show off his catch. He should be maintaining frequent eye contact or reassuringly touch her hand that is around his arm to show he cares.

Deceptive partners: How do you know one of the two is lying? Avoiding eye contact, frequent swallowing, scratching in front of ear and head are some of the nonverbal signs that one is trying to hide something. Alternatively, a poker straight face with zero expressions and minimum speech also shows deceit. If he/she is trying to hide something they might also shower you with praises.
Aarti Thadani
Roses n Wine
Asmi Diamond Pendant
Mcdonald's Gift Voucher
Rs.1,699 ($35.29)
Rs.8,670 ($180.10)
Rs.500 ($10.39)











Ask our Experts :
Expert Advice, Personality, Immigration (US), Tarot, Hot Couture, Body Care, Matrimonial Laws, Sexual Health, Life, etc, Man vs Woman, Fitness.