Do You Believe In Court Marriage?


Sudhir Shah
A Member of American Immigration Lawyers Association of USA and a practicing Lawyer of Mumbai. He is an expert on USA Immigration Laws. He provides guidance on how to prepare, apply and obtain a visa to travel to the USA upon marrying someone residing there.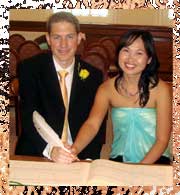 Courts in India do not carry out the function of performing marriages. Hon'ble Judges of the family court do pass decrees for divorces, order restitution of conjugal rights, judicial separation and dissolution of marriages. At times they are also instrumental in uniting two spouses. But they never ever perform marriages.

Despite this, several people speak of having performed their marriages in court. They say that they have undergone a court marriage. The word 'Court Marriage' is a misnomer. What they mean is that they have performed their marriage before the Registrar of Marriages under the provisions of the Special Marriage Act. They consider the Marriage Registrar's Office as court and the Marriage Registrar as the Judge.


Hindus perform their marriages according to Hindu Vedic rights. Christians solemnize their marriages in Church at the hands of a priest. Quazis perform nikah between two Muslims. Parsis, Jews, Buddhist, Sikhs and Jains too have their marriages performed through their respective religious priest, according to their own religious rites. Some also perform marriages at Arya Samaj and normally, people belonging to two different religions have their marriages solemnized under the provisions of the Special marriage Act.

All marriages performed in the above manner by any two persons, a male and a female, who are of marriageable age and at the time when they got married were single, that is either a bachelor and a spinster or divorced or a widow or widower, are legal and valid.

But when two Hindus or two Muslims or any two people following the same religion get married at the Registrar of Marriages under Special Marriages Act, such marriages, at times, are viewed with suspicion. These types of marriages are generally performed when the parties belong to different religions or their parents are not consenting or they want to hide the fact of their marriage.

Indians, marrying someone residing in America, in order to travel immediately after their marriage to America with their American spouse, marry at the Registrar of Marriage's Office. They do not disclose their marriage to their relatives and keep the same as a closely guarded secret. Their USA spouse then files petition for their visa. After the petition is approved and the Indian spouse receives the visa, they undergo a marriage ceremony according to their religious rites, have their marriage celebrations and let their relatives and the whole world know that they are married.

If for any reason whatsoever the visas are denied, they quietly have their marriage dissolved by mutual consent. After marrying at the Registrar's office they do not live a married life. They do not cohabit with each other. Save and except showing themselves as married for visa purposes they do not live as husband and wife. They have undergone the formality of marrying each other at the office of the Registrar of Marriages only to be eligible to receive the visa as the spouse of someone residing in USA. They marry only to receive the Visa. The USA Immigration law prohibits this. If the marriage is performed only with a view to receive a visa the USA Immigration Laws prohibits the grant of a visa.

As more and more Indians have started marrying at the office of the Registrar of Marriages, only for the purpose of receiving the visa, the consular officers at the American consulates have got the wind of such "Court Marriages", which though legal, have been entered into only with a view to receive the visa and thus are not bonafide marriages. Such Applicants' visas are denied. At times these applicants are charged of having committed the offences of fraud and misrepresentation. It then becomes very difficult for them to receive a USA visa.

Indians marrying someone residing in USA should therefore, in their own interest, desist from entering into such "Court Marriages".


Wills Lifestyle Casual Denim For Men
Wills Lifestyle Casual Top For Women
John Players Casual T-Shirt for Men
Rs.1,695 ($35.21)
Rs.1,395 ($28.98)
Rs.995 ($20.67)











Ask our Experts :
Expert Advice, Personality, Immigration (US), Tarot, Hot Couture, Body Care, Matrimonial Laws, Sexual Health, Life, etc, Man vs Woman, Fitness.