Adlabs Presents'
Ram Gopal Varma Ki Aag
Rating :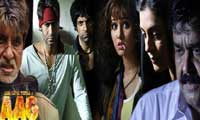 Produced by:
Ram Gopal Varma
Directed by:
Ram Gopal Varma
Music:
Amar Mohile and Prasanna Sekhar
Starring:
Amitabh Bachchan,
Ajay Devgan
,
Sushmita Sen
, Nisha Kothari, Prashant Raj and others.
Excruciating
Watch this one at your own peril. You ears will be assaulted by some of the most cacophonous background scores (Amar Mohile, RGV regular) in a Varma - violent subject. Your eyes will be subjected to some of the most gruesome sights on celluloid even by RGV standards - a hacksaw moves to and fro while cutting off the fingers of an honest cop, the camera (otherwise brilliant by Amit Roy) graphically capturing the movement and closing up on the victim's face, the savage expression of the perpetrator and of course with the Dolby Digital sound of the hacksaw and the victim's screams.
That's
RGV Ki Aag
for you, a film you can barely sit through and supposedly a lunatic interpretation of the story of
Sholay
, a film you can watch as many times as the running minutes of this... er, movie.
And what has Ramu -
garu
, that idiosyncratic filmmaker who feels that the audience is not important but his own 'creative' (!) satisfaction (!!) is, learnt from
Sholay
and its cult success?
He probably feels that
Sholay
worked because of its technical brilliance. No film has - certainly not in 77 years of Indian talkies! And where's the technical brilliance here anyway? If he thought
Sholay
worked because of the action, it is partly true, but the action was palatable and relevant. Here the violence makes even the insensitive adult male puke.
If he thought
Sholay
worked because of big stars and great actors, where are they here? Bachchan is a travesty of himself and must have sent buddy Amjad 'Gabbar' Khan spinning in his grave. Nisha Kothari must have given Hema an apoplectic fit. Even the rickshaw is an insult to the mare Dhanno. And that's for starters.
Next - we have his biggest blunder - he fails to understand that the biggest contribution to
Sholay
came from its emotions and the relationships depicted. We cheered for the Dharam-Amitabh bond, we laughed at their comedy, we cried with Jaya, our hearts bled for Sanjeev Kumar when his family was massacred, and we vociferously applauded the technical aspects and the brilliant background music, dialogues and direction.
Compare this with the functional expressions and performance of Sushmita as Jaya the widow, with Mohanlal, a pale shadow of the aggrieved Thakur, and all the others. When the Thakur faced his tragedies, we wanted even the iconic Gabbar punished. Here no scene, no line, no actor, no performance and no aspect touch us at all. Frankly we could not care less if Babban (Amitabh Bachchan) went unpunished. The film is punishment enough and it is RGV's camera that should be crippled with the hacksaw!
Great films, even good films, are about fictional depictions of emotions - positive and negative. They can be over-the-top, positive, negative, underplayed or realistic, but they should be there. Relationships and bonds are the very core and framework of civilized society.
Sholay
had them all in bountiful propositions with its technical perfection as bonus. The film has as much human feeling as a fish on an ice-slab.
Throw your ticket in the
Aag
!
KEY TO RATINGS:
Give away your ticket:


Watch it if you must:


Worth your while:


You'd be silly to miss it:


The views expressed above are of the writer and shaaditimes does not necessarily endorse the same.