Red Chillies Entertainment's
Om Shanti Om
Rating :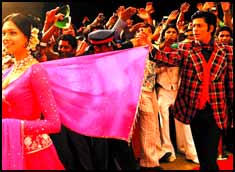 Produced by:
Gauri Khan
Directed by:
Farah Khan
Music:
Vishal-Shekhar
Starring:
Shah Rukh Khan, Deepika Padukone, Arjun Rampal, Shreyas Talpade,
Kirron Kher
, Nitish Pandey & Others.
Unalloyed Entertainment
Meet Om Prakash Makhija (Shah Rukh Khan) the junior artiste on the sets of
Karz
. We first come across him on the sets of the shoot of the real-life chartbuster "
Om Shanti Om
" from the film. Om, his mother and his friend Pappu (Shreyas Talpade) form a trio of mutual fans. Trouble is, Om is also besotted with top star Shantipriya (Deepika Padukone) who is so obviously beyond reach. For, with a name like that he is not going to make it big - ever, or so his friend and co-junior artiste Pappu tells him.
But life's strange. At the premiere of her new film, Shanti's
dupatta
gets entangled in Om's arm. A smile is exchanged. A few days later, in a fire sequence, Om as an extra saves Shanti's life when the conflagration gets out of control. It's time for them to get into a strong bond of friendship. Shanti considers him her equal, and just when Om's life couldn't get better he gets a rude shock when he overhears her in conversation with big-name producer Mukesh Mehra. Turns out Shanti wants to marry Mukesh and is even carrying his unborn child. Om is shattered.
A pregnant Shanti also shatters Mukesh's dreams for his magnum opus that will take him places. Furious, he plans her murder in a fire on the sets that he has erected. Om witnesses the killing, tries to save Shanti in vain, and is himself bumped off by Mukesh's goons.
The second half maintains the fun element in some moderation as the reincarnated Om Kapoor (son of Rajesh Kapoor, Shantipriya's co-star) is now a superstar. By the most unabashedly Hindi film methods of yore, he realizes who he was in his previous birth, reunites with mom and best buddy, and takes revenge on Mukesh, now Hollywood-based, when he returns to India to sign him. Aiding them all in bringing Mukesh to justice is Bangalore-based star aspirant Sandy (note the phonetic resemblance to Shanti) as divine intervention.
The climax, which is again in sync with the film's credo of
MASALA
ENTERTAINMENT, is according to the script inspired by
Karz
but in reality is inspired by
Madhumati
.
The only flaw with such a mad, intentionally brainless film is that in the second half the film mixes up reincarnation and one more element (it would be improper to reveal it) along with the fun'n'games, the light self-mockery wherein the film laughs at itself, lampoons and makes gentle digs at the '70s films and culture and yet reverently tributes it too. This makes for a little reduction in focus, but who cares? In this phantasmagoria of love, laughter, drama and dance, no one minds.
And for such a zanily 'retro' roller coaster, Farah's take on relationships is pleasantly controlled, contemporary and caring. There is a touching subtle punch in Om's relationship with his over-the-top 'filmi' mom and his gentle, devoted buddy. Shah Rukh Khan once again is brilliantly artless as he blends his studied overacting with his trademark mad humour and ever-impressive nuances and body language that lift his performance as always. Deepika's is a promising debut, and the way she emotes her affection for the first Om and her nervous awe of the second (
Om-Shanti-Om
, get it?) is exemplary for a debut-making actress.
The way a geek like Om Kapoor confesses to his father that as a star-kid he has taken success for granted is also touching, while the scenes showing rivalry between today's heroes are side-splittingly hilarious and sporting.
Above all,
OSO
underscores the outstanding personal bonding between SRK and Farah that has led to this crazy yet lovable proof of their professional resonance - once again after
Main Hoon Na
.
KEY TO RATINGS:
Give away your ticket:
Watch it if you must:
Worth your while:
You'd be silly to miss it:
The views expressed above are of the writer and shaaditimes does not necessarily endorse the same.