Baba Flims
Life Mein Kabhie Kabhie...
Rating :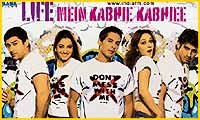 Co-Producer:
Ajhai Achrya
Director:
Vikram Bhatt
Music director:
Lalit Pandit
Featuring:
Dino Morea
,
Aftab Shivdasani
, Sameer Dattani,
Nauheed Cyrusi
, Koel Puri, Anjori Alagh,
Anujj Sawhney
, Nikita Anand,
Mohnish & Ekta Behl
and others
A journey in search of happiness going awry
Once in lifetime at least we all ask ourselves the million-dollar question and that is...what is happiness?
Life mein kabhie kabhie...
revolves around this question and the search for the answer. Five friends Manish (Aftab), Jai (Sameer), Monica (Nauheed), Ishita (Anjori) and Rajiv (Dino) get insanely drunk and land up in jail. Four of them bet on each other as to who will be the happiest of all, while Manish opts out and agrees to be the judge. They give themselves five years to prove their perception of happiness.
For Rajiv happiness is all about being 'The Best'. Monica thinks being 'Famous' is associated to happiness. Jai thinks its 'Power' and Ishita visualises 'Money' as a way to be happy. Five years changes a lot in each ones lives. Rajiv Arora proves himself to be the best businessman, Jai Gokhale becomes the youngest MP, Ishita becomes rich, and Monica becomes a film star. Each one gets what they want from life.
The highlight here is that the girls in the film - Monica and Ishita get over ambitious and greedy to mere earn success, fame, and money or should we say to win the bet of Rs. 200 that they don't mind or hesitate to give up their virginity! Monica even gets ready to ditch her live-in boyfriend to become a successful actor! Not to forget she is the same girl who gets upset when she sees her body double do some intimate 'hot' scenes in her first film. She even threatens to sue the producer and director of the film. And later she ends up in bed with her co-star, who promises to make her "successful"! Ishita, a journalist of a magazine 'Scandal' ends up in bed with a flirtiest man Raj Gujral for money and fame!
After five years when the old friends meet they have achieved everything: power, money, fame, except for one thing - "Happiness". Thats how goes the story.
And now for the performances:
To begin with, Aftab (Manish) has a decent role. The actor proves again that he can well suit the role given to him. Koel Puri (Richa) looks much like his elder sister than his wife. She looks too old for Aftab. Dino (Rajeev) has done a better job. Had his role been crafted more, it could have been much better. Nauheed as Monica fails to impress. Anujj Swahney (Mohit) has a cameo role in the film. The actor is wasted. Sameer Dattani (Jai) has to brush up his acting skills. He can hardly act and emote. Anjori as Ishita is sure to be noticed. The actress hardly makes you feel that it is her debut movie. She has played her role well. Rajat Bedi, Mushtaq Khan, Pinky Hirwani are strictly ok. Mohnish Behl is likable. Ekta Behl has nothing to do. Raj Zuthsi, Ashwini Kalsekar - Sharma, Nishigandha Wad, and others add able support to the film. The film could have been crafted much better.
The film falls flat on the script level. The script has some loose ends. The only saving grace in the film is the three songs.
Gherea Raaz
, the title track, and
Zindagi
are likable. Music director Lalit Pandit has proved again that he is one of the best music directors we have. Dialogues by Girish Dhamija have an okay effect.
On the whole, it is a good story gone awry. Worth your while only if you have nothing else to do.
KEY TO RATINGS:
Give away your ticket:


Watch it if you must:


Worth your while:


You'd be silly to miss it:


The views expressed above are of the writer and shaaditimes does not necessarily endorse the same.