Anil Kapoor Films Company
GANDHI my father
Rating :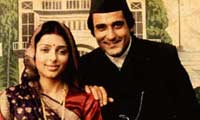 Producer:
Anil Kapoor
Director:
Feroze Abbas
Starring:
Darshan Jariwala, Akshaye Khanna,
Shefali Shah
, Bhumika Chawala and others.
''The greatest regret of my life...
Two people I could never convince --
My Muslim friend Mohammed Ali Jinnah and
My own son Harilal Gandhi.''
A film that peeps into different life of Mahatma
Till today, many films on Mahatma Gandhi have been made. But none of them have touched these aspects or strings of Gandhi
ji
's life like the current film GANDHI - my father.
Gandhi is known by all as the father of the nation, but few people know him as the father of his son - Harilal Gandhi. The movie is a touching look at the relationship Harilal (Akshaye Khanna) had with his parents; and more importantly so with his father, the great Mahatma (Darshan Jariwala).
The film reveals the personal tragedy about a principled father and his unfortunate son. Somewhere in the shadows of the great Gandhi, lived his son Harilal Gandhi who roamed the streets like a beggar. Lack of attention from his father, an inability to cope with expectations from him and as an act of rebellion, Harilal converts to Islam. After much angst, sorrow, frustration and confusion he finally drinks himself to death.
The irony that the movie revolves around is that while Gandhi was successful in transforming the soul of the nation, he could not save his own son's soul.
The story is not about the fight for national freedom and the pivotal role played by Mahatma Gandhi, but about the delicate relationship between a father and a son. And that's what makes the film stand apart from the crowd.
As a cinematic experience, the film unfolds in the most simplistic, but compelling manner. Director Feroze Abbas gets full marks for this magnificent film. The cinematography (David Macdonald) is superb. Especially the B&W, grainy frames that compliment the actual footage. Designer Nitin Chandrakanth Desai has also done justice to the sets. Penny Smith has worked magic with makeup to age the artistes.
Akshaye Khanna as Harilal Gandhi showcases his talent brilliantly. He has handled a wide range of conflicting emotions with great understanding and maturity. Easily one of his career's best works. Darshan Jariwala as Mahatma Gandhi is also outstanding. Shefali Shah as Kasturba Gandhi is another performance you can carry home. The actor is awesome.
All in all GANDHI - my father leaves an indelible mark on the minds of the viewer. As not much is known about Harilal, the viewer tries to absorb every incident, like a sponge absorbs water.
To sum up, GANDHI my father is a must watch this Independence Day.
KEY TO RATINGS:
Give away your ticket:


Watch it if you must:


Worth your while:


You'd be silly to miss it:


The views expressed above are of the writer and shaaditimes does not necessarily endorse the same.