Thinking of renovating your kitchen?
Follow these tips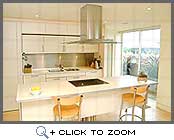 This is one investment if done well will increase your efficiency in the kitchen and bring you and your family enormous pleasure. A successful kitchen design is one which incorporates your style, is efficient, well designed, provides adequate storage space and uses the most appropriate materials.

Space planning: The golden triangle
Much is spoken of the 'golden triangle' principle of kitchen design. It means that the most used equipment and work areas should be grouped together to allow the user to operate effectively and efficiently while cooking.


The appliances that form the triangle constitute the refrigerator, cooking range and sink. Please note that when altering the location of the appliances in an existing kitchen the plumbing and electrical expenses may shoot up.

Design style
The design of your kitchen may be traditional or contemporary, formal or casual, high-tech or homey - whatever reflects your style preferences. Choosing appropriate materials, colours and textures can help you achieve the look you are striving for. However, remember that efficiency, design, storage and safety should not be compromised on.

Design elements
Cabinets
The choice of kitchen cabinets you make is the biggest factor in determining the look of your kitchen. The options available are cabinets that are painted, lacquered or finished in wood. They can also have glass inserts. The cabinet doors can be flat or can be panelled for a more traditional look. The cabinet choice you make should be long lasting, low maintenance and easy to clean.
Counter tops
There are many options to choose from depending on your style and budget. The material you settle for should be non-porous, easy to clean, scratch proof and stain proof. You can choose from granite, engineered quartz, wooden butcher blocks, concrete, stainless steel or laminate counter tops.
Back splash


When it comes to back splash options, your only limit is your imagination - almost anything goes. We suggest you choose something easy to clean with few joint lines. Choices range from ceramic tiles, stainless steel, mirror and frosted glass (you can even experiment with coloured glass if you are the adventurous sorts.) Just painting or wallpapering will not protect the walls from spills and stains.

Floorings
Hygiene and safety are paramount. Larger sized tiles in ceramic flooring, natural stones such as marble and kota stone help to make the floor space appear larger. You want to make sure the flooring is easy to clean and has anti-skid properties.
Appliances
The choice of kitchen appliances such as refrigerators, gas ranges, microwaves, sinks, etc is endless. Make sure that you invest in a good brand as you want the appliances to last you for a long time. Finishes range from standard white, black, stainless steel and even coloured. Make sure that you choose your appliances early on in the design process as the kitchen design/layout can ensure that the appliances you choose will fit in the designated space.











Ask our Experts :
Expert Advice, Personality, Immigration (US), Tarot, Hot Couture, Body Care, Matrimonial Laws, Sexual Health, Life, etc, Man vs Woman, Fitness.

Copyright © 2020 Shaaditimes.com - A relationship and wedding portal by Shaadi.com. - All Rights Reserved.
Terms and Conditions