A guide to painting your home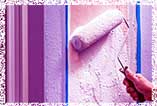 There are plenty of tricks with colour that can be used to enhance the size of rooms in a house. Careful use of colour can offer a simple, but effective, way of making a home feel cosier.
Follow these design rules to transform an existing living space into a dream home:
To make a room appear larger
Choose colours from the cool end of the colour wheel like whites, blues and greens.
Paint all surfaces the same colour.
Keep flooring dark and walls light, the floor space will appear to expand.
A low ceiling will appear higher if painted a lighter shade than the walls or put some mouldings up and paint them a darker shade than the ceiling.
Use the deepest tone of colour near to the floor and the lightest shade on the ceiling. This will give the illusion of space. Try it the other way around to see how a room can be made to look smaller.
Large pieces of furniture will appear smaller if they are the same colour as the walls.
To make a room appear cosier
Choose colours from the warm side of the colour wheel.
A sunny yellow will 'heat up' a room, but don't go overboard, complement it with a white ceiling and woodwork to keep it looking fresh.
A warmer shade used on the ceiling will bring the height of a room down and make it feel cosier.
When using bright colours such as orange and red, remember to maintain balance by keeping the floor and carpet neutral.
Other tricks
The far end of a long corridor will seem closer if painted in a darker shade.
In a long corridor-like room, paint the two shorter end walls in a slightly darker shade to make the room appear squarer.

Before you start
Once you've decided on your colour(s) you are ready to go. But before you start painting:
Buy some tester cans of your chosen colour. Use the whole can and paint quite a big stretch of white non-absorbent paper (no smaller than four feet square).
Don't paint lots of different colours in a striped fashion. Paint onto pieces of non-absorbent white paper and stick onto the wall with adequate distance between them.
Leave the sheets up for a few days, move them round the room and look at the paints in all lights. See how they appear in daylight and artificial light and make your decision.
Rupila Sethi
Nirali's 4 pieces Gift Set
Heritage Casserole Set - 3 Pieces
Philips Grill - HD 4428
Rs.2,850 ($59.20)
Rs.1,175 ($24.41)
Rs.5,495 ($32.05)











Ask our Experts :
Expert Advice, Personality, Immigration (US), Tarot, Hot Couture, Body Care, Matrimonial Laws, Sexual Health, Life, etc, Man vs Woman, Fitness.