Have an office at home?
9 great tips for those working from home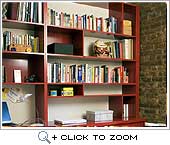 Creating a work space at home is an exciting idea. In most homes, however, finding room for a home office may present a few challenges. But potential office space is always hiding so to speak, in plain sight. Identifying it simply requires a shift in perspective. Perhaps you are fortunate enough to have a spare room. But the most common way to squeeze in a home office is to borrow space, diplomatically, from an existing room so as not to disturb the room's original purpose. Or if the option is available, to spread out more, you could take over the basement, garage or attic.
Design hints
First start by identifying that space. Remember that Sockets - power and phone points will govern the placement of the office furniture, unless you are willing to relocate the points.
Once the wall or corner has been identified, clear away items in that space. These items that should be compactly stored away in some place else.
Start with your work surface. Do you need a desk or any other sort of work surface? What shape does it need to be or what type of work surface do you prefer to work on-wood, plastic or laminate?
Be sure to choose an ergonomically designed chair with an adjustable seat and armrests to protect your spine.
Make a list of and measure all the electronic equipment you will need and see where it will fit best.
Make sure you allow for proper lighting. Natural light is great but you will need ample ambient and task lighting too.
You may be lucky if you have a door that closes and preserves the peace and privacy of your home office space, but this isn't always possible. You can establish a sense of privacy by the way you orient your work surface or by using a screen or file cabinets to mark off the space.
Wall art - a memo board may be required, but with the addition of photos or art prints it can be made aesthetical as well as functional.
Striking a balance between domesticity and function in a home office is the root of successful study design.


Rupila Sethi
Espresso Coffee Maker
Prestige Juicer Mixer Grinder V - 1
Philips Grill - HD 4428
Rs.2,400 ($49.85)
Rs.1,999 ($41.52)
Rs.2,995 ($62.21)
Rs.5,495 ($32.05)











Ask our Experts :
Expert Advice, Personality, Immigration (US), Tarot, Hot Couture, Body Care, Matrimonial Laws, Sexual Health, Life, etc, Man vs Woman, Fitness.